Digital Transformation Office 
The Digital Transformation Office (DTO) is a cross-functional team that serves as a leader, partnering with executive sponsors across the organization, to architect solutions across complex and interrelated business lines to support Geisinger's digital strategy.
The digital strategy is an initiative that defines a foundational pivot from internally-focused operational improvements to externally-focused experiences for our consumers, patients and members. The digital strategy goes above and beyond to understand our consumers, making healthcare easier and more affordable, so they can live their healthiest life. These initiatives are anchored to the healthcare journey to ensure we meet all customer needs.
In recognition of the need to transform core elements of our operations to prepare for a digital future, Geisinger has invested in the modernization of our application programming interface (API) and microservices architecture, developing an enterprise-wide strategy for patient and member data, and rationalization of the application infrastructure, to name a few.
Additionally, we are in the early stages of designing a completely overhauled website and portal experience as part of our digital front door strategy. We are also reimagining and optimizing our customer engagement processes and upgrading our contact center technology infrastructure to create a one-touch resolution experience for all manner of interactions between Geisinger and our patient-members.


Who is the DTO?
The DTO is a cross-functional team that spans strategy development, product and service design delivery, and ongoing operational support functions in support of Geisinger's digital strategy. In addition to augmenting specialized workforce to key digital programs, the DTO serves as the organizing body for master portfolio management. Our office develops and drives business case formation and results in partnership with executive sponsors and finance and provides the governance required to architect solutions across complex and interrelated business lines.
What does the DTO do?
The DTO aims to bring forward value to Geisinger by building programs that save time, streamline operations and improve processes with a focus specifically on those, and ones that provide a state-of-the-art digital experience. Led by the Vice President for Digital Transformation, the DTO aims to deliver a consumer-first perspective which is focused on making healthcare easier, consumer insights, patient-member engagement, adoption, satisfaction and delivering a market-leading consumer experience.
The DTO has oversight in the following areas:
Defining enterprise-wide digital strategy

Maintaining an inventory of, and aligning digital initiatives and efforts, including vendor relationships and internally developed applications

Coordinating activities and resources to promote efficiency and prevent duplication across the enterprise

Ensuring that digital technologies are developed and deployed in a patient-family centered and responsible manner

Tracking and communicating the digital strategy progress

Responsible for understanding and the dissemination of trends in the digital landscape
The office promotes and stimulates cross discipline collaboration to enable the continual development and seamless implementation of exceptional digital products and solutions, targeting top organizational problems and aligning with the Geisinger key strategic initiatives. We also serve as a community of practice that works collaboratively with clinical, IT, innovation, research and operational leaders to spur the growth of innovative digital collaborations, drawing agile, and human-centered, cross-functional approaches.


Our leadership
Rebecca A. Stametz, DEd, MPH, Vice President, Digital Transformation
Jon Billet, Senior Director, Digital Transformation IT Architecture
Ryan Van Loan, Director for Product Management
Our structure
The DTO reports to the Chief Innovation Officer through the Steele Institute for Health Innovation. A steering committee is coordinated as a management committee to keep leadership informed on activities and progress. The steering committee is composed of representatives from executive leadership, clinical leadership, research, legal, operations, quality, innovations, finance, data management and analytics, information technology and the health plan.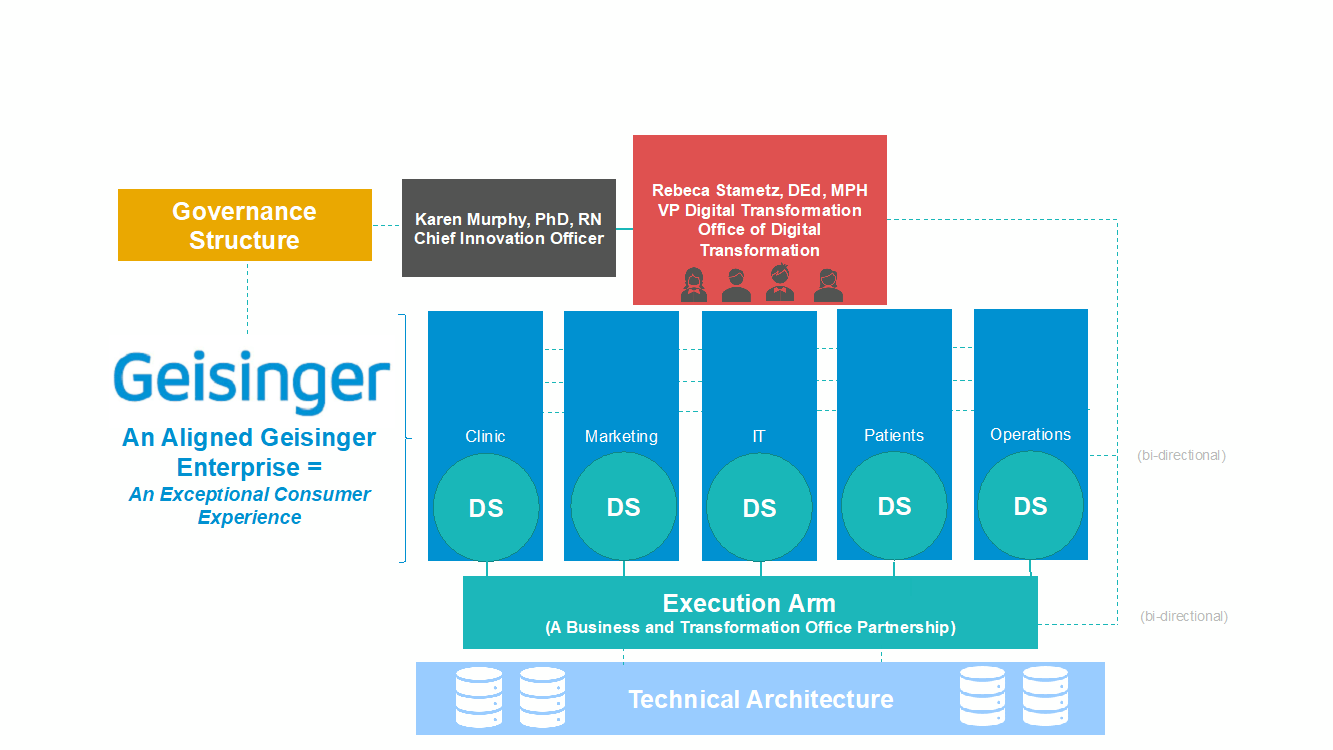 Our scope
The DTO governs the digital initiatives that are approved by the Geisinger Board of Directors. The scope of activities governed by the Office include internally developed and commercially procured digital technology used in clinical, health plan, and operational settings.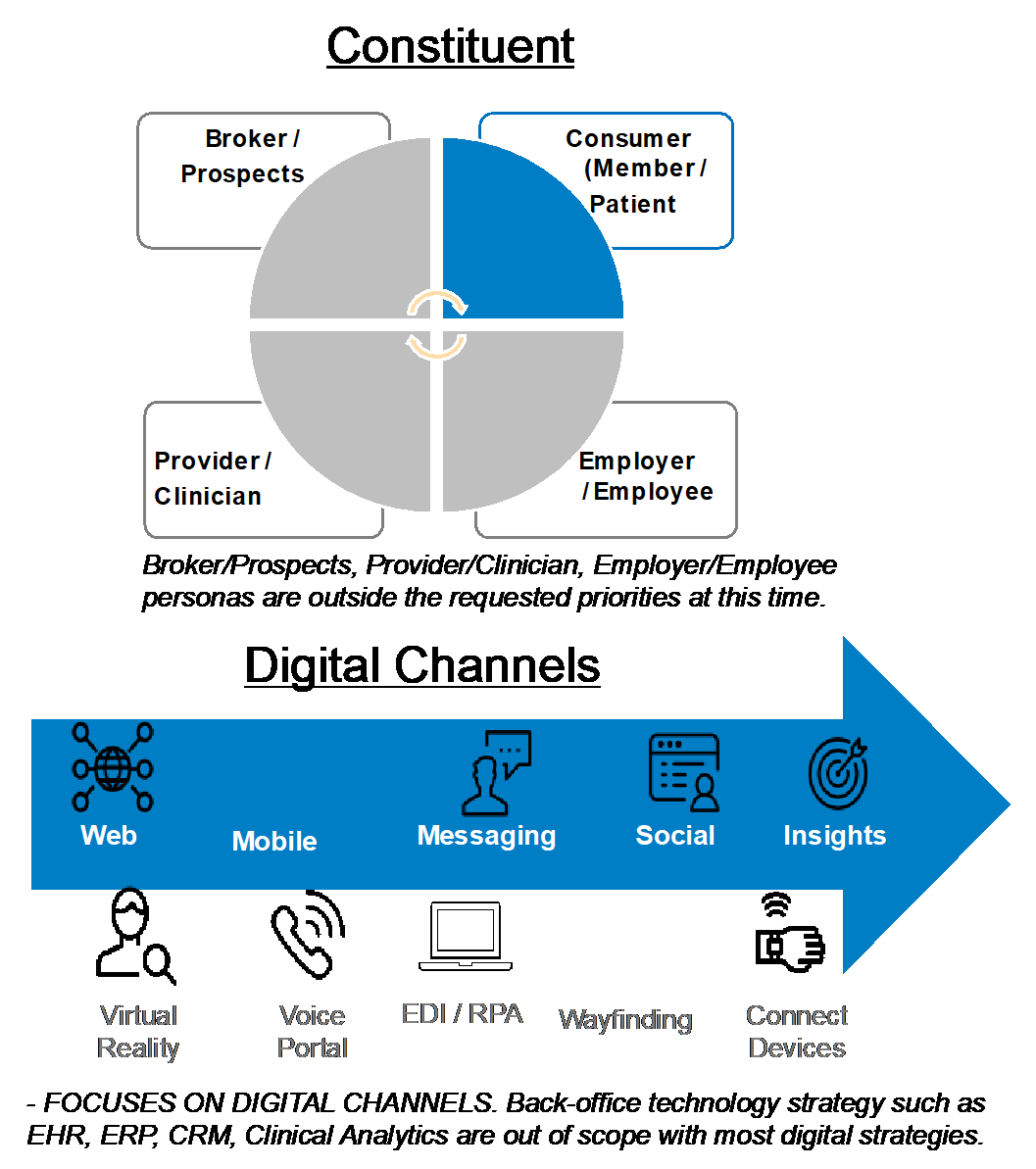 Through collaborative engagement the DTO will have insight into legacy systems, CRM efforts, IT, and other innovation and research portfolios. Such insight will aid in a streamlined and fully informed decision-making.
The DTO's main objective is that of the consumer experience (member-patient).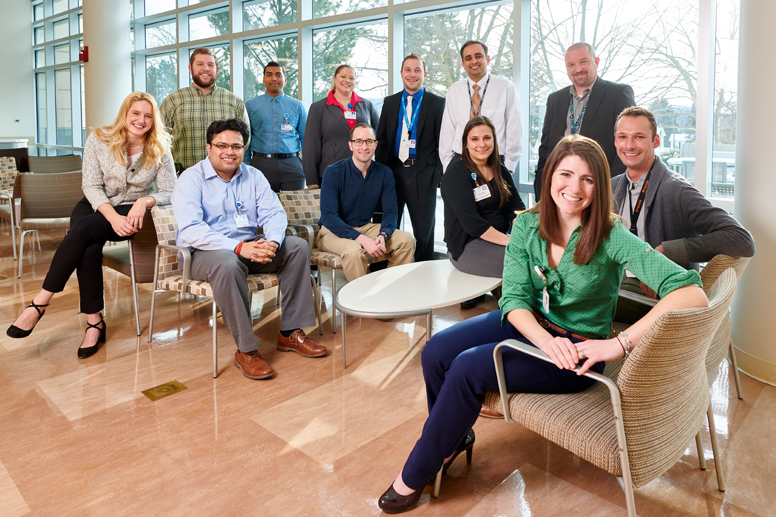 Population Health Technologies Lab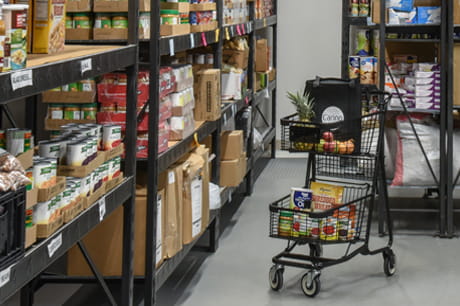 Through innovative design, develops products that automate care processes, enhance clinician productivity and enhance team-based population healthcare delivery.
Learning Healthcare System Technologies Lab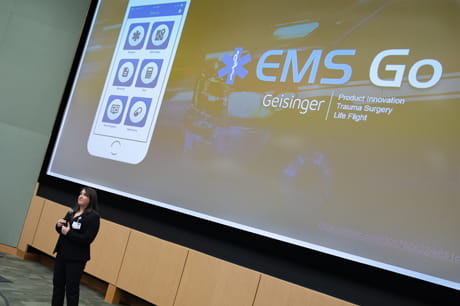 Cultivates and tests products, processes, methodologies and infrastructure to support learning initiatives across healthcare organizations.
Patient and Family Engagement Lab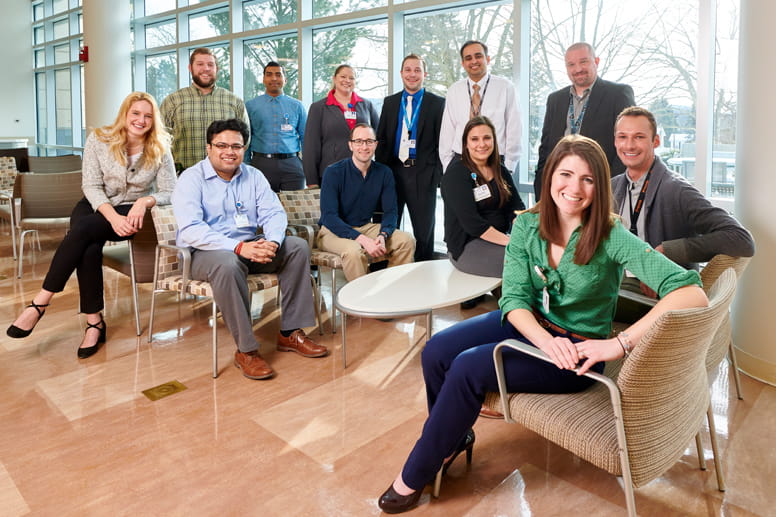 Prioritizes the needs of end users by building empathy to enrich the healthcare experience.
Healthcare Re-Engineering Laboratory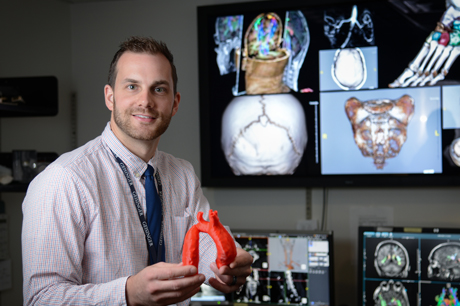 Drives substantial improvements in patient access, flow, quality and healthcare efficiency.
Our work
Anticipatory Management Program: Providing a 360-degree view of gaps in care
Our Anticipatory Management Program (AMP) is a redesigned model of care at Geisinger that assists our care teams in care delivery by providing a 360-degree, patient-centric view of relevant gaps in care in an actionable, concise, and interactive format, embedded directly in the care team's workflow within the electronic health record (EHR).
---
MedTrue: Putting patients and providers on the same page with medications
MedTrue™ integrates different medication data sources to assist with medication reconciliation and adherence. Embedded directly within the EHR and in the healthcare provider's workflow for optimal use of clinical and patient-reported data during patient appointments, MedTrue™ provides a patient—and healthcare team—verified medication list.
---
Family Caregiver Application: Improving patient communication and care coordination
Targeting family caregivers, Family Caregiver Application utilizes patient-reported and health data from the electronic health record to integrate with existing patient portal functions and enable caregivers to coordinate care for their dependents. Intended to bring a patient's life outside healthcare directly into their care coordination, Family Caregiver Application is interoperable across Fast Healthcare Interoperability Resources (FHIR)-supporting platforms. Learn more at
Family Caregiver Application
.
---
PainWatch: Helping patients understand and manage pain
PainWatch is designed and developed by patients and Geisinger's Pain Management care team to support the management of chronic pain. PainWatch harnesses technology to help patients and their care team understand how their pain is trending over time along with valuable insight into sleep quality and other important clinical metrics. Currently under evaluation in a clinical trial, this innovative HIT suite (iOS app, Apple Watch, Health Kit Integration, Clinician Interactive Tool) aims to modernize pain management and the patient experience.
---
EDGE: Reinventing respiratory disease management
Designed and developed by patients and Geisinger Pulmonary Medicine, EGDE is an innovative system of care designed as a personal companion for those who want to better manage their asthma. Our product suite allows patients to better understand their asthma by connecting directly to their EHR and uses real-time EHR connections while sharing important metrics that interface directly with patients' care teams, extending care beyond the exam room. Available on Apple and Google Play app stores, visit
EDGE
for more information.
---
OpenNotes: Giving patients a more active role in their health care
Since 2013, Geisinger's OpenNotes® movement has provided patients access to their physicians' notes through our secure patient portal. The effort has been "activated" in a variety of venues, including working with residents and fellows and with family caregivers. Our work with learners and family caregivers has led to recent publications and the ability to operationalize sharing notes with formal proxies. Visit
OpenNotes
for more information.
---
Forecasting high census and bed demand days in advance
At Geisinger, we put a great emphasis on patient outcomes; therefore, inpatient bed planning is a critical aspect which requires the development of better strategies for data-driven decisions. To deliver a timely and highly accurate estimate of the inpatient bed demand, our team has developed a predictive model based on the application of machine learning (ML) algorithms to predict the hospital census for the next five days, allowing healthcare professionals to plan and act before an expected high census day.
---
Pacer: Patient Centric Electronic Redesign
PACER (Patient Centric Electronic Redesign) software is a centralized tool that captures data from the patient, the nurse, the provider, and Epic and assembles that data into a series of actionable views and new functionalities. These 4 data stream are captured in real time. Additionally, PACER captures and plots validated composite measures of disease activity over time, in the context of the therapy being given. By previewing this information, the provider can enter the exam room empowered and ready to solve the patient's problems and agenda.

PACER, which was developed in house at Geisinger, has been used in routine care delivery throughout Geisinger Rheumatology since 2009. It has facilitated the development of a world class outcomes database, with over 100,000 measures of disease activity and functional status. The effectiveness of PACER has allowed the Rheumatology Department to achieve best in class in quality measures and resulted in substantial reduction in costs.
---