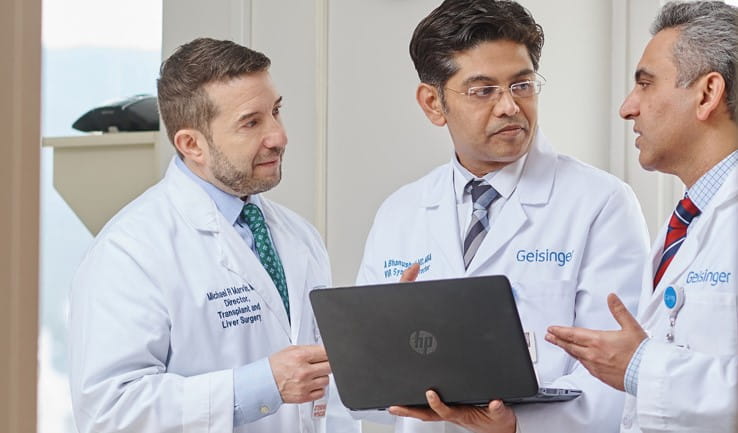 A clear path to exceptional care
Contact our team.
Geisinger Liver Care Center
Liver disease is complex. Getting the care you need shouldn't be. This is why Geisinger is making it easier than ever to access expertise and treatments that can help you get your life back. One call is all it takes to get started.
Whether you need surgery, a second opinion or your care journey is just starting, you'll find exceptional liver care at Geisinger. We deliver the full range of services so you can get more of the care you need from one program.

Geisinger is home to the region's leading liver disease (hepatology and liver surgery) experts. We are the only program in the region where you receive care from a team of experts, including liver doctors (hepatologists), surgeons, oncologists and interventional radiologists. Our combined expertise leads to safer, more effective treatments so you can have the best possible quality of life.

We offer deep experience in treating all forms of liver disease, including liver failure, hepatitis, cirrhosis and liver cancer. At Geisinger, you have access to nearly every available treatment, including newly approved medications for hepatitis C and liver transplant surgery. You receive care close to home from recognized liver experts.
Why choose Geisinger for your liver disease care?
Expertise:

All our liver experts are board certified, meaning they've passed rigorous exams after medical school. Our doctors have undergone additional training (fellowships) in specific areas of

liver disease

care. This level of expertise leads to precise treatments and lowers your risk of complications.

Find a provider

.

Trust:

Doctors throughout the region commonly refer patients to us because we offer a level of care that isn't widely available. Our nationally recognized liver care providers work alongside equally skilled experts in cancer care and radiology when necessary. This approach helps you get the tests and treatments that are just right for your needs.

Find a doctor

.

Accurate diagnosis:

We use the latest imaging technologies, including powerful magnetic resonance imaging (MRI) scanners to produce high-resolution images of problem areas. Our team also includes a pathologist — a doctor who specializes in examining liver tissue samples. These resources come together to help us deliver an accurate diagnosis, so you receive the care that meets your unique medical needs.

An entire care team in your corner:

Our team approach includes medical and surgical

liver disease

experts along with other highly trained specialists who come together to treat complex problems. We carefully coordinate the services that best meet your medical needs so you can focus on getting better. Our team communicates regularly to keep your treatment moving forward.

Personalized treatments:

If there is liver cancer, we work with experts from the Geisinger Cancer Center to determine the combination of treatments that are best for you. Your care may include a procedure, radiation therapy or cancer-fighting medications (chemotherapy). Learn more about our

Cancer Center

.

Life-saving care:

If other treatments aren't successful, a liver transplant can save your life. Geisinger's history of excellence in liver transplant procedures dates back to 2006. Our track record of positive outcomes draws patients from Pennsylvania and south-central New York. Find out more about our

liver transplant services

.
Liver disease conditions and treatments
You can count on our liver experts for an accurate diagnosis and treatments that meet your unique medical needs.
Ascites
Bile duct diseases
Bile duct injuries
Cholangiocarcinoma
Cirrhosis
Fatty liver disease
Gallbladder disease
Hepatic encephalopathy
Hepatitis A
Hepatitis B
Hepatitis C
Liver cysts
Liver failure
Liver tumors
Metastatic liver cancer
Nonalcoholic steatohepatitis (NASH)
Varices
Related specialties and institutes
Content from General Links with modal content