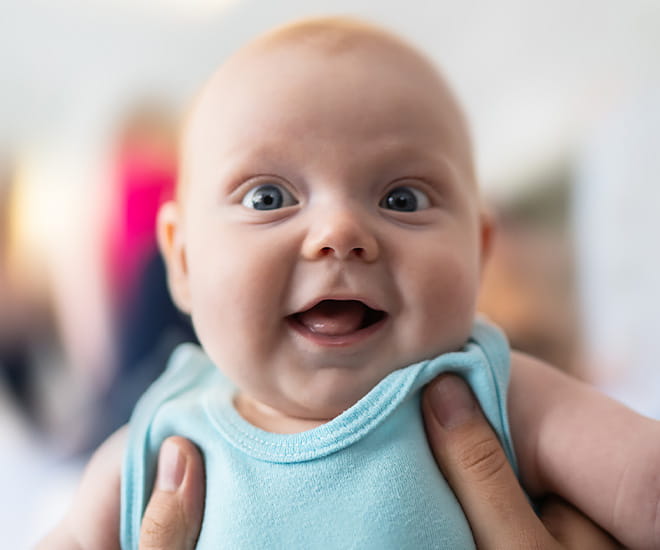 Pediatric genetic disorders
Whether your child has a genetic condition or you just want to reduce their risk, we can help.
What is a pediatric genetic specialist?
Genetic counseling weighs the impact your personal or family history has on the development of certain congenital disabilities. They can also help your family understand whether a congenital disability was inherited. And they may offer genetic testing to your children to determine if they're at risk for passing along hereditary genetic conditions.
What causes genetic disorders?
Genetic disorders are sometimes caused by a gene mutation, or changes in a gene's DNA.
There are two types of gene mutations:
Acquired: This type of mutation is often caused by environmental factors during pregnancy like smoking, alcohol or drug use, illness, chemical exposure or certain types of medications.
Inherited: These mutations are in the genetic material that was passed on to the person by their parents. This type of mutation is present in every cell of the body and can be passed down to the next generation.
Inherited gene mutations run in families and can increase your child's risk of developing a congenital disability.
Care centered around your child
We offer a range of prenatal tests and early interventions for congenital disabilities. If you decide to have genetic testing, your genetic counselor will work with you to create a customized care plan for your child. With your doctor, you can work to reduce your child's risk of developing a congenital disability — or detect it sooner, when it's easier to treat.
Our pediatric genetic specialists offer treatment for:
Blood transfusion
Chromosomal disorders
Cleft palate
Clubfoot
Congenital diaphragmatic hernia
Congenital heart defects
Down syndrome
Fetal abnormalities
Fetal airway obstruction
Fragile X syndrome
Heart defects
Sickle cell disease
Surgery pre- or post- delivery
Williams syndrome
Pediatric genetic care at Geisinger
From diagnosis to treatment and management of genetic conditions, our specialists help children thrive. We offer:
Personalized care for children: From simple to complex issues, our goal is to help you manage genetic conditions. With personalized treatment plans, we're here to help your child be as strong and healthy as possible.
Congenital heart disease program: We offer a dedicated congenital heart disease program, with care for all ages. Whether your child was diagnosed in utero or later, we provide the specialized care they need to feel their best.
Team approach to complex care: We offer clinics that connect your child with a variety of specialists and support staff in one visit. We educate you and your child on the disease and provide management plans.
Excellent care in your neighborhood: With Geisinger Janet Weis Children's Hospital in Danville and many pediatric offices (and specialists) throughout Pennsylvania, exceptional care for your child is never far from home.
Treatments powered by research: Through ongoing education, research and innovation, we're evolving pediatric care.
Family support: We advocate for children and their families, and we'll guide you at every step — from programs to community support and resources.
Genetic testing and counseling programs: Our pediatric genetics programs determine whether your child faces a higher-than-normal risk. Special programs such as MyCode®, which are only available at Geisinger, detect the earliest signs of certain genetic conditions so you can start treatment right away. Learn more or sign up for MyCode.
Content from General Links with modal content