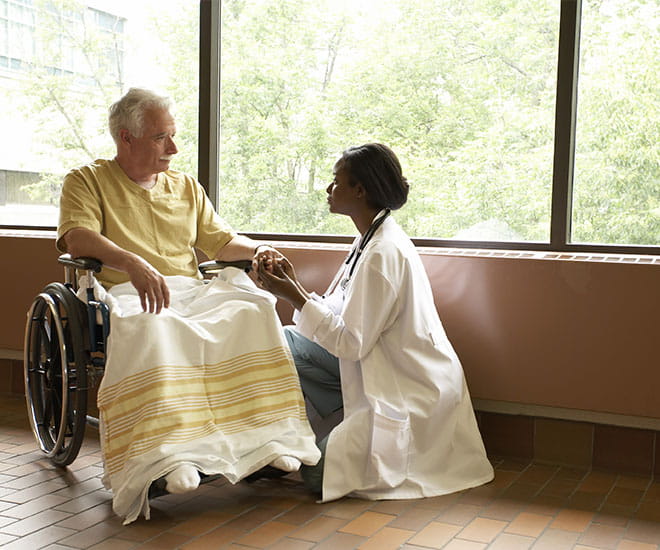 Care and support when they're needed most
Palliative Medicine
Whether you or a loved one need supportive care, we're with you at every step.

What is palliative and support care?

When you and your family need it, you'll get the support of an entire team and specialized resources. Depending on your needs, there are two types of supportive care.
Palliative care: Palliative care is also known as supportive care. It can begin at any time during a life-limiting illness, even while you're undergoing active treatment. Palliative care can include:
Pain and symptom management during treatment
Supportive care
Improving quality of life
Educational resources
Helping you understand your prognosis and treatment options and define your healthcare goals
Help with creating an advance directive

Hospice care: Unlike palliative care, which can begin at any stage of an illness, hospice care is available when life expectancy is 6 months or less. Hospice care provides:
Pain and symptom management focused on comfort
Companionship, assistance and emotional and spiritual support
Bereavement services for family and caregivers
Hospice care can take place at home, in an assisted-living or long-term care facility or in a "home away from home," such as the Geisinger hospice program located at Maria Hall.
When is palliative care used?
Palliative care can be used during a variety of health conditions, including:
Organ failure
HIV/AIDS
Neurological conditions like Parkinson's or ALS


An entire care team working together
When you need supportive care, your team of compassionate, skilled specialists comes together to develop a personalized plan to best treat you. Team members include:
Palliative care doctor: Your palliative care doctor will focus on improving your quality of life and help you manage symptoms.
Palliative care social worker: You'll work with a palliative care social worker who will provide emotional support for you and your family. They'll assist with referrals for services or special resources.
Nurse practitioner: Your nurse practitioner will address your unique health needs through specialized care.
Palliative care dietitian: Your dietitian will focus on your changing dietary needs. They will also address any nutrition concerns like nausea or decreased appetite.
Palliative care pharmacist: Your pharmacy team will help you manage your medication regimen.
Palliative care chaplain: Our chaplains provide compassionate moral and spiritual support.
Keeping you as comfortable as possible with the treatments that are right for your needs is always our focus.
Palliative and support care at Geisinger
Our palliative care team is here to provide you and your loved ones with compassionate care and the most advanced treatments available. We offer:
The knowledge you need – Your palliative care team includes surgeons, doctors and specialists with years of training and experience. They'll deliver the care best suited to your needs.
Round-the-clock care – Our team is here when you need us, 24 hours a day, 7 days a week.
The support of a whole team – Our caring, specially trained team consists of nurses, therapists, social workers, a hospice medical director, spiritual counselors, trained volunteers and your doctor. And they're all working together to provide the care you and your family need.
Bereavement support – We know hospice care affects the whole family. That's why we offer grief and bereavement support for every family member.
Camp Courage – Our program Camp Courage is a twice-yearly free bereavement camp for children, teenagers and their families to help them learn to cope with grief.
Content from General Links with modal content