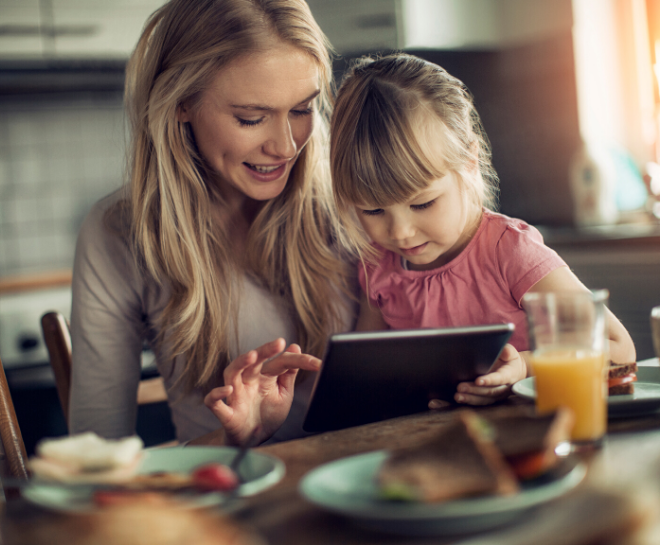 Pediatric gastroenterology
From tummy aches to nutritional counseling, our experienced team of pediatric gastroenterologists (GI doctors) manage and treat children's GI and nutritional disorders. That way, your child can focus on what matters most: being a kid.
What is pediatric gastroenterology?
Pediatric gastroenterology (or peds GI, for short) involves the diagnosis, treatment and management of GI and nutritional disorders in children.

You know your child is unique. So are their needs. We're here to develop a personalized care plan that puts them at the center.
What conditions does a pediatric gastroenterologist treat?
Our pediatric gastroenterologists treat a wide variety of gastrointestinal and nutritional conditions in children, including:
Abdominal pain and ulcers
Allergy testing
Celiac disease
Crohn's disease
Constipation or diarrhea
Enteral and parenteral nutrition
Eosinophilic (allergic) esophagitis
Feeding tubes
Heartburn and GERD (gastroesophageal reflux disease)
Hepatitis
Irritable bowel syndrome (IBS)
Lifestyle and diet modifications
Malnutrition/malabsorption
Nutritional counseling
Ulcers and polyps
Vomiting
We'll explain the entire process so you know your child is getting the best care. Our pediatric nurse navigators are here to advocate for your child throughout their treatment and keep you informed so you can take a more active role in their care.

Because nothing is more important than your child's health.
Diagnosing pediatric GI conditions
Your child's team of experienced pediatric gastrointestinal specialists have a variety of tests to detect your child's GI condition. Some of the tests your child's doctor may use in diagnosis may include:
Endoscopy: Your child's doctor will use an endoscope, a thin, flexible tube with a camera on the end, to get a clear view of the digestive tract. Our team uses special child-sized endoscopes.
X-ray: This allows the doctor to see the condition of your child's stomach and esophagus and potentially rule out other causes of their symptoms.
Motility test: This test checks how well food and waste move through your child's digestive system.
Hydrogen breath test: This test is used to diagnose lactose or other food intolerances. After drinking a special liquid, your child will blow into a machine that measures the amount of lactose or bacteria present in their small intestine.
24-hour pH probe study: To determine how much acid is backing up into your child's throat and how often, their doctor may examine their esophagus using a transmitter attached to a thin, flexible tube. The transmitter will take regular readings over a 24-hour period, which your doctor will read when the test is complete.
Pediatric gastroenterology care at Geisinger
Here, your child will get innovative treatments and personalized care centered around them. We offer:
Personalized, compassionate care for children: From maintaining your child's health and well-being to providing more advanced care, our pediatricians and pediatric specialists provide care that's tailored to your child's unique needs. We know your child is more than a patient — and they deserve the very best care.


World-class care in your neighborhood: With Geisinger Janet Weis Children's Hospital located in Danville and many pediatric offices (and specialists) throughout Pennsylvania, exceptional care for your child is never far from home.


Treatments powered by research: From minor to serious health issues, our drive to improve the health and lives of children is never-ending. Through ongoing education, research and innovation, we're here to evolve pediatric care — taking the latest research-based treatments to care for children.


Family support: We see your family like our family. As relentless advocates for children and their loved ones, we're here to guide families at every step — from programs to community support and resources.


Obesity prevention and management: Children have the option to work with our Weight of Life program. This program brings together doctors, dietitians and nurse educators to prevent and manage childhood obesity.


Individualized nutrition planning: Complete nutrition consultations will make diet recommendations that can help support your child's eating habits.
Content from General Links with modal content