Breast surgery
No matter your breast surgery needs, our team is here to help you heal and get back to feeling your best. 
What is breast surgery?
While breast surgery is commonly used to treat breast cancer and other conditions that affect the breast, breast surgeries typically fall into two main categories: reconstructive and cosmetic.
Reconstructive breast surgery involves removing part of or the entire breast and rebuilding it through a surgical procedure. Breast reconstruction is typically used after a partial or total mastectomy and can include:
Temporary expanders
Breast implants
Autologous tissue reconstruction (which uses your own tissue)
Nipple-areola reconstruction
Cosmetic breast surgery is an elective procedure that alters the physical appearance, including:
Make an appointment
Call us today to schedule a consultation with a colorectal surgeon at 800-275-6401.
Call for a consultation
Breast surgery to treat breast cancer
Breast surgery is the most common treatment for breast cancer — which affects more women in the United States than any other cancer (after skin cancers). With the latest technology and minimally invasive surgery, our goal is to get you back to living the life you love as soon as possible.
During your surgery, your surgeon will also conduct a biopsy of your lymph nodes to determine whether the tumor has spread. Additionally, many women choose to undergo breast reconstruction, or restorative breast surgery, either in tandem with their mastectomy or after their postsurgical treatment has been completed.
Breast cancer symptoms
When many people think about early breast cancer symptoms, they tend to think about finding breast lumps. But lumps are only one symptom. There are more symptoms to watch out for, and finding them early can help stop the cancer from spreading to other places in your body.
Early signs of breast cancer can include:
A lump in your breast or armpit
Visible changes in your nipple or skin (dimpling, redness, puckering, scaly texture)
Swelling
Warmth in your breast are
Nipple discharge
Inverted nipple (when your nipple turns inward)
When conducting a breast self-examination, look for these symptoms of breast cancer. While these symptoms don't always mean you have breast cancer, it's important to discuss any symptoms with your doctor to rule out possible health issues.
Learn more about diagnosing and treating breast cancer.
Surviving breast cancer at 27
The day after her 27th birthday, Alexandria Thurchak underwent an ultrasound examination after discovering a lump in her breast. Diagnosed with stage 2 breast cancer, Alexandria's life would quickly become a series of serious decisions she'd never thought she'd have to make in her 20s. She credits her Geisinger nurses and doctors for helping her navigate through several treatment plans, which included a mastectomy, egg freezing, chemotherapy, radiation and hormonal therapy. Alexandria wants all young women to be aware of their bodies and if you feel anything abnormal, always get it checked by a professional because it could save your life.
Types of breast surgery:
During a mastectomy, your surgeon removes all or part of your breast or breasts to treat breast cancer. Our surgeons perform the following mastectomy procedures:
Total mastectomy, in which your surgeon removes your entire breast or breasts.
Partial mastectomy, a breast-conserving surgery in which your surgeon only removes the tumor and a small amount of surrounding tissue.
Oncoplastic partial mastectomy, which involves a combination of tumor or cancer removal with immediate breast reconstruction to reshape your breast and prevent any irregularity.
Hidden scar partial mastectomy, which uses a surgical technique after a partial mastectomy that removes the tumor or cancer from your breast. The procedure is performed in a way that leaves a scar where it can't be seen.
Nipple-sparing mastectomy, in which your surgeon will make a small incision to remove the affected breast tissue without removing your nipple(s). This often results in less scarring. This also allows for immediate breast reconstruction that will have a more natural look
Skin-sparing mastectomy, in which your surgeon removes the breast tissue and glands while preserving your skin. This surgery also allows for immediate breast reconstruction.
Prophylactic mastectomy, a preventive mastectomy that is also known as a bilateral or double mastectomy. This procedure involves removing one or both breasts to reduce the risk of developing breast cancer. For women who carry a BRCA1 or BRCA2 gene mutation, a preventive mastectomy can reduce the risk of developing breast cancer by 90 percent.

Also called "breast-conserving surgery," a lumpectomy can confirm or rule out a diagnosis of cancer. It's also a way to remove just the cancerous tissue or lump from your breast and is an alternative to a mastectomy. A small amount of tissue around the lump or cancer is also removed to help prevent it from spreading.
If your tumor or lump can't be felt through your skin, your surgeon will perform a localization to guide them to the tumor during surgery:
A needle localization is performed to help guide your surgeon to the exact location of a tumor or lump in your breast. This thin needle is placed before surgery using local anesthesia on the same day as a breast biopsy or lumpectomy. Once the tumor or lump is located, the needle is removed and leaves behind a wire. This wire is kept in place with gauze and tape until the surgery to remove the tumor or lump is performed.
A wireless localization allows your surgeon to locate the tumor during surgery without a wire. Instead, radar is used to locate the breast tissue that will be removed. This technology allows your surgeon to locate the tumor within 1mm of its location.

SAVISCOUT® is an advanced treatment for breast biopsy, tumors and lymph nodes. This technology allows your surgeon to pinpoint the exact location of your tumor and guides them when removing the affected tissue during minimally invasive surgery. This means less pain, less downtime and a faster recovery.
The lymph nodes in the arm are connected to those in the breast. Lymph nodes are the first place cancerous cells are likely to spread, so your surgeon may remove lymph nodes as part of breast cancer treatment.
Lymphedema (arm swelling) can develop when lymph nodes in your arms are removed, and radiation treatment can sometimes increase your chances lymphedema. We'll monitor for any fluid buildup before and after surgery as well as any swelling, minimizing your risk of developing lymphedema.
These lymph node surgeries help to prevent lymphedema:
Sentinel lymph node biopsy is a procedure where a dye is injected into the breast to determine which lymph nodes spread cancer. Due is injected into your breast and the lymph nodes that pick up the dye are removed. By removing these sentinel lymph nodes, your doctor can determine if cancer has spread to the lymph nodes and remove them.
Axillary lymph node dissection (ALND) is another procedure that removes lymph nodes in the armpit to prevent cancer from spreading. If a lymph node biopsy indicates that cancer has spread to three or more lymph nodes, your surgeon will perform an ALND. This surgery is often performed along at the same time as a mastectomy or lumpectomy.
Axillary reverse mapping (ARM) is a technique that, by injecting dye into the arm, helps surgeons identify and protect or repair the lymph nodes that drain the arm to prevent lymphedema or swelling of the arm.
Technology to prevent lymphedema
SOZO is a device that detects lymphedema earlier than any other technique. SOZO can detect changes before any symptoms begin to show, which has greatly lowered the rate of lymphedema.
Reconstructive breast surgery
Breast reconstruction rebuilds the shape and look of your breast or breasts after a mastectomy. It can be done in tandem with your mastectomy or any time after surgery, either using implants or your own tissue. There are several ways to rebuild the breast including:
Temporary expanders – This procedure involves placing a tissue expander beneath the skin to preserve the shape of the breast in preparation for a future implant. The tissue expander will stay in place for several months, then be replaced with the breast implant.
Breast implants – Implants made with either a saline solution or silicone gel are placed behind breast tissue or breast muscle.
Autologous tissue reconstruction – Also called a tissue flap procedure, this reconstruction restores the shape of the breast using tissue from other parts of the body.
Nipple-areola reconstruction – This procedure can be done after a mastectomy to rebuild your nipple and areola. Skin from your chest is used to make the nipple, and a skin graft around the nipple is made to create the areola. In addition, some people chose to have tattooing after this procedure to create a realistic, 3-D areola around the nipple.
Most breast cancer patients are candidates for breast reconstruction. However, your doctor will be able to tell you which — if any — surgery is right for you.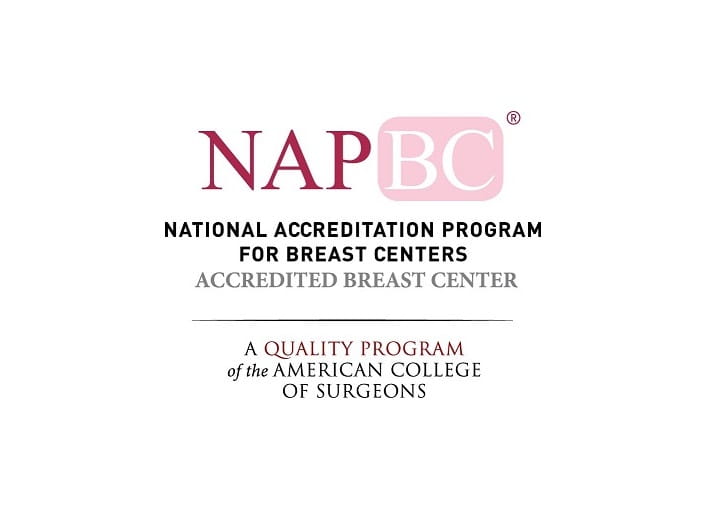 Your breast surgery care team will rally behind you and will include:
Surgical oncologist (breast surgeon), a surgeon who specializes in breast cancer surgery.
Plastic surgeon, a surgeon who specializes in breast reconstruction.
Advanced practitioners, health professionals with special training in diagnosing and treating breast cancer.
Medical oncologist, a doctor who specializes in diagnosing and treating breast cancer using chemotherapy.
Radiation oncologist, a doctor who specializes in diagnosing and treating breast cancer using radiation therapy.
Radiologist, a doctor who specializes in interpreting medical images to provide a diagnosis.
Pharmacists, who, in addition to filling your medications, will provide you with information on how to take your medications and will alert you to any possible side effects.
Clinical research nurses, who can provide information on any clinical research trials available to you.
Oncology nurses, who have undergone training specific to treating those diagnosed with cancer.
Breast nurse navigator, who will guide you through your breast cancer journey from start to finish. Our nurse navigators are trained to answer any questions you may have along the way, including those about your treatment and health.
Palliative medicine physician, a doctor who specializes in managing your symptoms throughout your care.
Pathologist, a doctor who specializes in reading and interpreting biopsy results to provide a diagnosis.
Social worker, a professional who can help you and your family throughout your treatment. They provide emotional support as well as guidance on living day-to-day with breast cancer.
Dietitian, who can help you adjust to eating changes during and after cancer treatments and navigate any diet issues. Their support will help you best nourish your body throughout your cancer journey.
Breast surgery care at Geisinger
No matter why you had breast surgery, our entire team is here to support you throughout your diagnosis, treatment and post-operative care. We offer:
The expertise you need – Your care team is powered by surgeons with years of training and experience. Many of our breast surgeons have completed advanced training (called fellowships) in specific types of surgery. Their expertise has been honed by treating many people with breast disease. And their focus is on delivering the care best suited to your needs.
Nationally recognized breast care – Our breast programs at Geisinger Medical Center, Geisinger Holy Spirit and Geisinger Wyoming Valley Medical Center are recognized by the National Accreditation Program for Breast Centers (NAPBC), a program that acknowledges centers that provide the highest quality care to women with breast disease. We've held this distinction for more than 10 years. This means you'll receive the highest level of care at every step.
Leading-edge clinical trials – Our cancer research and clinical trials give you access to new treatments before they become widely available. Participating in a trial may help you get better even if standard approaches haven't worked. Find a clinical trial.
Genetic testing and counseling programs – Special research programs, such as MyCode, are only available at Geisinger. Participating in MyCode allows you to contribute to genetic research. By participating, some may receive information about their own genetic risks. Learn about MyCode.
Cancer survivorship program – Just because your treatment is complete doesn't mean your journey has ended. We offer a variety of support resources focused on helping you live your healthiest life. Learn about patient resources.
Support throughout your treatment journey – No matter where you are after your surgery, we want to make sure you have everything you need. Learn more about life after breast surgery.