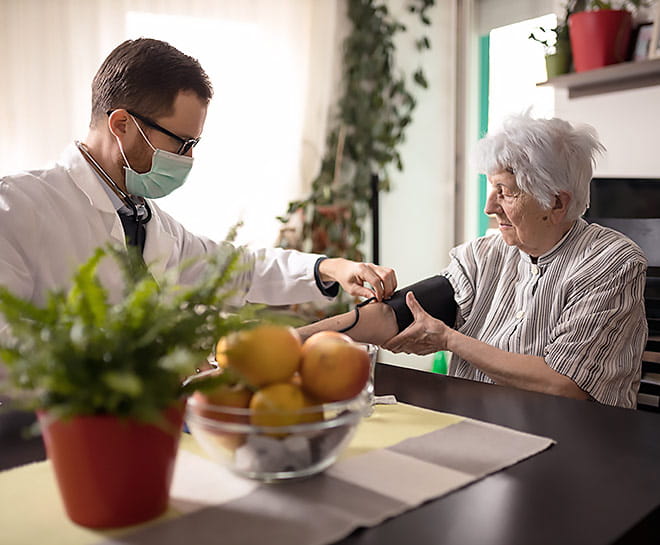 Healthcare in the comfort of your home
Home health
Whether you're recovering from an accident, surgery or illness, or are living with a medical condition, we can give you the care you need — right at home.
What is home healthcare?
When you're going through rehabilitation or recovering from illness or injury, home healthcare professionals come right to your home to provide the healthcare services you need.
Our caring group of nurses, aides, social workers and physical, occupational and speech therapists can help to people who:
Are disabled with a caregiver present
Have a chronic illness
Have been recently hospitalized
Have had outpatient surgery
Have multiple health problems
Home health services include:
Home health aide
Skilled nursing care
Social work
You or a loved one can live safely and comfortably at home throughout the healing process with the help of our specially trained team. And access to Geisinger's electronic medical records system through MyGeisinger makes it easy to keep your doctors up to date on your progress.
What home healthcare can offer
Our home health nursing care team can provide wound care, ostomy care, catheter care and infusions whenever needed. We also offer support for bathing, nail care, oral hygiene and other daily activities.
And when our team leaves your home, you'll get detailed instructions for chronic conditions like heart conditions and diabetes, as well as medication administration. So you always have what you need and know what to do at home to stay healthy.
Expert physical, occupational and speech therapy care
Physical therapy can include rehabilitation, gait training and mobility, as well as exercise programs to relieve pain and regain muscle strength and joint movement. Occupational therapy can help you relearn physical activities and may include suggested modifications to your home to best aid in your recovery.
And, if needed, our speech therapy services can help people recover from swallowing issues and throughout post-stroke care.
Home health at Geisinger 
Our home health specialists offer services to people throughout central and northeast Pennsylvania, treating a full range of conditions including:
Acute illness
Angina
Cellulitis
Depression
Head injuries
Infections
IV therapy needs
Maternal and child health
Parkinson's disease
Spinal cord injuries
Terminal illness
Wound and incision care
If you need round-the-clock care to treat a life-limiting advanced illness, our
hospice
team offers everything you need to live each day to the fullest.
Home health care at Geisinger
Our team is staffed with compassionate and skilled home health specialists who offer:
Social services: You can have everything you need at home to live a safe and healthy life — we'll help. Social workers offer counseling and community resources to help with the emotional, physical and financial stresses that can come with a medical condition or crisis.
Maternal Child Health program: Mothers and babies get specialized care during and after pregnancy. We offer care for newborns, premature infants, infants with jaundice or who are discharged from the neonatal intensive care unit, high-risk prenatal women and postpartum mothers.
LIFE Geisinger: From help with day-to-day activities to social services and long term care, LIFE Geisinger offers specialized services to help seniors live independently.
Hospice care: When life-limiting advanced illnesses require specialized care in a skilled nursing or assisted living facility, our compassionate team of hospice specialists are ready to provide round-the-clock care for patients, caregivers and family members.
Content from General Links with modal content