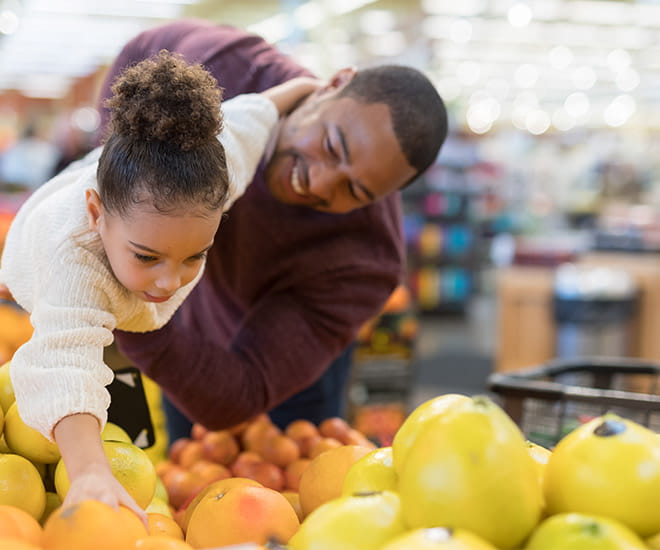 Our purpose
The Fresh Food Farmacy is a new approach to medicine, or rather a very old approach to medicine.
Research shows that a healthy diet and exercise can be just as important as medication in regulating blood sugar and preventing long-term complications from diabetes. However, many people may lack access to healthy food or knowledge about a healthy diet.
Our "food as medicine" approach puts this research into action, combating high obesity rates, pre-diabetes and diabetes by providing fresh, healthy food to those most in need. But most importantly, the Fresh Food Farmacy empowers participants to manage their medical conditions through food-related behavior and lifestyle changes.
Our values:
Improving the health of our patients and their families.
Educating members of our community on the connection between nutrition and wellness.
Reducing the impact of Type 2 diabetes and related medical complications, optimizing prescription medication use and lowering the cost of total care.
Providing our participants (and their families) with access to at least 10 fresh and healthy meals per week.
Collaborating with community partners to help those who need it most.
In partnership with community philanthropists, the Fresh Food Farmacy was launched in July 2016 at Geisinger Shamokin Area Community Hospital* in Coal Township, Pennsylvania. The hospital is located in Northumberland County, which is home to an estimated nearly 22,000 adult residents who have pre-diabetes. Of those residents, 90 percent don't know they're pre-diabetic. Additionally, Northumberland County has the second-highest rate of long-term diabetes complications in central Pennsylvania.
We began this as a pilot program with just six patients, all diagnosed with Type 2 diabetes and facing food insecurity. These people were identified as having hemoglobin A1C (HBA1C) levels greater than 8.0. By working with their primary care doctor, registered nurse health manager, pharmacist, registered dietitian, pantry manager/clerk, community health associate and wellness staff, we established individualized nutritional counseling plans. Each participant received more than 20 hours of diabetes education with our health coaches, along with enough food each week to prepare healthy and nutritious meals twice a day for 5 days (10 meals per week). In addition to fresh food, each received a welcome kit including measuring cups and spoons, recipes and nutrition information to use at home.
The Fresh Food Farmacy was created to deliver the gold standard of diabetes care by providing diabetes education and healthy food in a sensitive, caring and respectful manner. We now have expanded to serve patients at three locations: Shamokin, Scranton and Lewistown.
See all our Fresh Food Farmacy locations.
*A campus of Geisinger Medical Center
The Fresh Food Farmacy has positively impacted more than 3,000 people, including registered patients and their families, in Northumberland, Mifflin, Juniata and Lackawanna counties. In fact, we recently served our one millionth meal.
By participating in our program, patients realize they aren't alone, and the challenges they face are faced by many of their neighbors, too.
In 2021 and 2022, Geisinger Fresh Food Farmacy will grow geographically and address more diseases through diet.
We continue to evaluate other locations, including additional satellite partnerships. We've also created a Fresh Food Farmacy mobile app to help expand participation. The app helps patients manage diabetes through health journals, meal planning and healthy recipes.