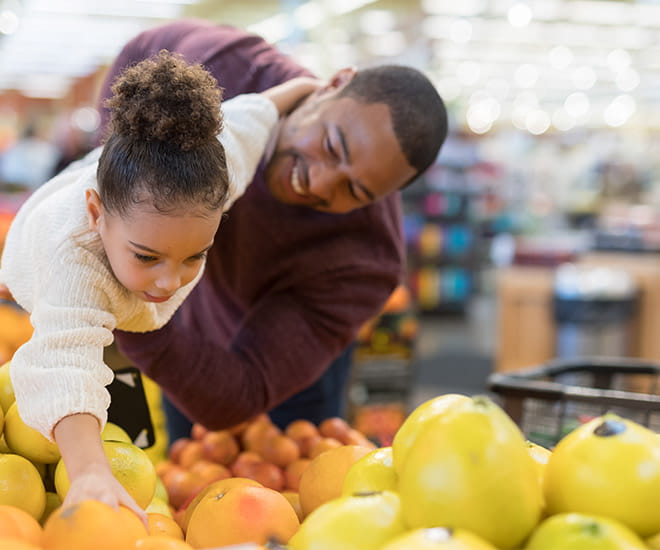 Our purpose
The Fresh Food Farmacy is a new approach to medicine, or rather a very old approach to medicine.
Research shows that a healthy diet and exercise can be just as important as medication in regulating blood sugar and preventing long-term complications from diabetes. However, many people may lack access to healthy food or knowledge about a healthy diet.
Our "food as medicine" approach puts this research into action, combating high obesity rates, pre-diabetes and diabetes by providing fresh, healthy food to those most in need. But most importantly, the Fresh Food Farmacy empowers participants to manage their medical conditions through food-related behavior and lifestyle changes.
Our values:
Improving the health of our patients and their families.
Educating members of our community on the connection between nutrition and wellness.
Reducing the impact of Type 2 diabetes and related medical complications, optimizing prescription medication use and lowering the cost of total care.
Providing our participants (and their families) with access to at least 10 fresh and healthy meals per week.
Collaborating with community partners to help those who need it most.
In partnership with community philanthropists, the Fresh Food Farmacy was launched in 2016 at Geisinger Shamokin Area Community Hospital* in Coal Township, Pennsylvania. The hospital is located in Northumberland County, which at the time was home to an estimated 22,000 adult residents with pre-diabetes. Of those residents, 90 percent didn't know they were pre-diabetic. Northumberland County also had the second-highest rate of long-term diabetes complications in central Pennsylvania.
We began this as a pilot program with just six patients, all facing food insecurity and diagnosed with uncontrolled Type 2 diabetes, meaning their hemoglobin A1c (HBA1c) levels were greater than 8.0. We worked with each patient's primary care doctor to establish wraparound care involving a registered nurse health manager, registered dietitian, community health associate, pantry manager and wellness staff. Each participant received more than 20 hours of diabetes education with our health coaches, along with enough food each week to prepare healthy, nutritious meals twice a day for five days (10 meals per week). Each also received a welcome kit including measuring cups and spoons, recipes and nutrition information.
In 2019, we opened our Scranton and Lewistown Fresh Food Farmacy clinics. We also began a randomized controlled clinical trial to study how the program helps our patients. During that same year, we launched the Fresh Food Farmacy patient- and provider-facing app to streamline the experience for our enrolled participants.
During the 2020 pandemic, the Fresh Food Farmacy adjusted to accommodate patient safety, and we were able to avoid interruptions to food distribution or clinical care management. We did, however, move to a biweekly food distribution model – which has remained post-COVID.
The Fresh Food Farmacy was created to deliver the gold standard of diabetes care by providing education and healthy food in a thoughtful, caring and respectful manner that helps make better health easier.
Along with our three brick-and-mortar facilities, we've expanded our model to include a satellite program with a similar health-focused community partner. The partner must agree to distribute healthy foods within the program's nutritional parameters. Geisinger manages enrollment and referrals, and the patient receives their food at the partner location. We launched a pilot satellite in Jersey Shore in September 2020 and fully opened for referral at that location in April 2021.
The Fresh Food Farmacy has positively impacted more than 1,600 enrolled patients and has fed about 4,200 people (including participants' family members). In 2022, we hit a milestone of 1.5 million meals distributed and look forward to continuing to serve our communities.
The Fresh Food Farmacy continues to evaluate and pilot disease state expansions, as we know diabetes isn't the only diet-responsive condition. We also constantly evaluate community health and social needs to develop and grow our "food as health" methodology, with a focus on data, outcomes and community partnership opportunities.