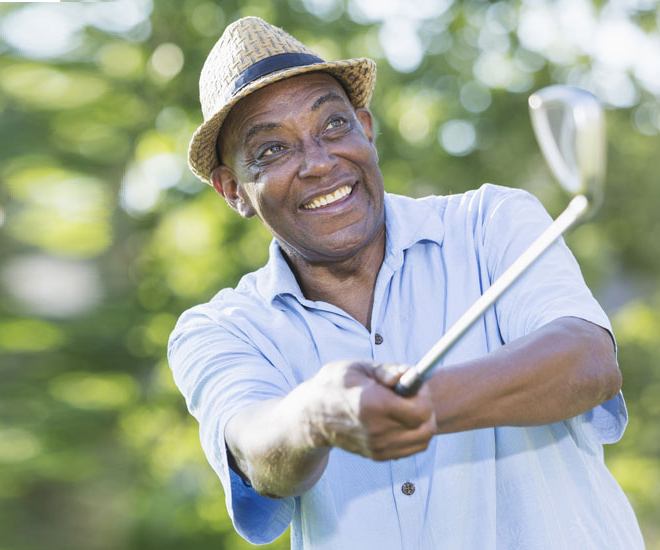 Prostate cancer treatment
Prostate cancer treatment options 
If you've been diagnosed with
prostate cancer
, you're probably exploring your treatment options. Finding the treatment that's right for you is a personal choice, with many factors to consider.
No matter where you are in your prostate cancer journey, our experienced team will work with you to build a personalized treatment plan tailored to your needs and lifestyle.
Prostate cancer treatment options
Treatment for prostate cancer depends on its type, location and stage. Based on your unique situation, one or more of the following treatments may be recommended.
Surgery for prostate cancer
Surgery is the most common method of treating prostate cancer. Our urologists use the latest techniques to treat cancer of the prostate, including minimally invasive surgery, to offer you the best outcomes and path for healing.
Robotic surgery
To treat prostate cancer, we offer
robotic surgery
— a precise, minimally invasive procedure. Robotic prostate surgery requires smaller incisions, which means less pain and faster recovery, so you can get back to your normal life.
Our surgeons have performed more than 2,000 robotic
urologic surgery
procedures — more than any other healthcare provider in the region. We routinely perform complex procedures that are unavailable elsewhere in the area, including robotic prostatectomies for prostate cancer.
Before prostate surgery, your doctor may recommend pelvic physical therapy. This treatment approach, which may include pelvic floor exercises, can help men recover after surgery and decrease the chance of complications. Doing men's Kegel exercises can also reduce instances of urinary issues or pelvic pain.
Hormone therapy for prostate cancer
Also known as androgen deprivation therapy (or testosterone replacement therapy), this process uses medication to lower testosterone levels. Doing so slows the growth of prostate cancer cells.
Radiation therapy for prostate cancer
Radiation oncology uses radiation to control or destroy harmful cancer cells, with tools to treat each unique cancer.
Our board-certified cancer doctors and highly skilled clinical team deliver conventional radiotherapy treatments that include:
External beam radiation
External beam radiation uses special technology to send X-ray radiation (photons) to the tumor from outside the body.
Internal radiation (brachytherapy)
Brachytherapy targets the tumor using safe levels of radiation inside the body, delivered through radioactive tubes or radioactive seeds.
Intensity-modulated radiation therapy (IMRT)
IMRT uses a 3D image of the tumor to deliver high-precision radiotherapy that fits its exact outline.
Image-guided radiation therapy (IGRT)
IGRT is used to localize the radiation beam and treat cancers in areas of the body that move during and between treatments. This includes Cone Beam CT scans to accurately view the tumor and target it during treatment.
Stereotactic body radiation therapy (SBRT)
SBRT uses precise conformal beams of radiation to focus high doses of radiation to just the tumor, with very little damage to surrounding healthy tissues.
SpaceOAR Hydrogel treatment for prostate cancer
We also offer SpaceOAR® Hydrogel treatment, a new technology that helps prostate cancer patients experience fewer side effects from radiation treatment. By protecting the rectum from radiation exposure, the nontoxic gel injection acts as a barrier between the prostate and the rectum.
CyberKnife for prostate cancer
CyberKnife®
robotic radiosurgery is a noninvasive treatment for tumors that are hard to reach or inoperable. This robotic therapy targets complex tumors — including cancerous and non-cancerous tumors — by delivering high doses of targeted radiation safely, anywhere in the body. And it's offered at the Frank M. and Dorothea Henry Cancer Center at
Geisinger Wyoming Valley Medical Center
in Wilkes-Barre.
No incisions involved. So, you have quicker treatments, less pain and faster recovery.
Biological therapy/immunotherapy for prostate cancer
In addition to conventional treatments of surgery, radiation, hormone therapy and chemotherapy, immunotherapy may be an option for those with advanced prostate cancer. This newer, innovative treatment uses biological drugs that work with your body's immune system to fight the cancer in a targeted way, many times without chemotherapy or radiation.
Clinical trials for prostate cancer
Our extensive history with prostate cancer research and clinical trials gives you access to new treatments, often before they become widely available. Participating in a trial may help improve your condition, even if standard approaches haven't worked in the past.
Find a clinical trial near you
.
Prostate cancer treatment at Geisinger
Cancer is unique to each person, which is why Geisinger's cancer care team gets to know you along your journey. While some of our cancer specialists are trained in treating specific cancers, our entire team works together to help you fight your cancer — every step of the way.
Our prostate cancer specialists treat more cases of prostate cancer than any other healthcare provider in the region and they're dedicated to providing innovative treatments and personalized cancer care. We offer:
Unmatched expertise – Our prostate cancer team consists of surgeons, doctors and specialists, many of whom are fellowship trained. This team treats many patients with prostate cancer and other cancers each year and is focused on delivering personalized, excellent care that's suited to each patient's needs.
Multidisciplinary care team – Those diagnosed with cancer have the opportunity to work with our experienced multidisciplinary care team, a multi-physician team that comes together to create a personalized treatment plan for each patient. This will enable you to see your care team in one location, all during the same visit.
World-class care, close to home – With many locations throughout northeast and central Pennsylvania, our experienced cancer team provides consultations and comprehensive care. We offer leading-edge treatment options and tailored-to-you care backed by the expertise and innovation of a nationally recognized health system.
Comprehensive specialty care – From chemotherapy, radiation and minimally invasive surgery options to national clinical trials and genetic testing, our prostate cancer specialists are dedicated to offering innovative treatment options and personalized care in convenient locations, so you don't have to travel far. We'll work with you to develop a personalized prostate cancer care plan based on your individual needs.
A commitment to research – Our oncologists are members of the Pennsylvania Urology Regional Collaborative, a statewide prostate cancer quality database dedicated to providing the highest quality care for prostate cancer patients. This group serves as leaders for initiating improvements in prostate cancer care.
Genetic testing and counseling programs – Special research programs such as MyCode® are only available at Geisinger. Participating in MyCode allows you to contribute to genetic research. By participating, some may receive information about their own genetic risks. Learn about MyCode.
Survivorship program – Just because your treatment is complete doesn't mean your journey is over. We offer a variety of support resources focused on helping you live your healthiest life. Learn about patient resources.
Content from General Links with modal content