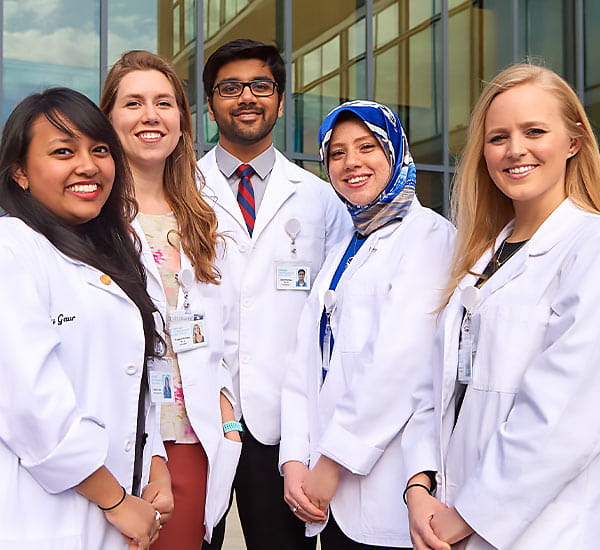 Support Students at Geisinger College of Health Sciences 
Your philanthropy powers the future of medicine and caring at Geisinger
Pennsylvania has a shortage of nurses and physicians to care for our community. You can help us close this gap by supporting scholarships and student assistance funds at Geisinger College of Health Sciences, promoting a healthier future for everyone in our region.
Geisinger College of Health Sciences includes Geisinger Commonwealth School of Medicine, Geisinger School of Nursing, Geisinger School of Graduate Education, continuing education and other programs that help physicians, nurses and healthcare workers advance their knowledge and skills.
Your gift can help people like Tiffany Tomasello, who changed careers to become a nurse through Geisinger's Nursing Scholars program, which provides financial assistance and professional support to employees seeking a career in nursing or allied professions.
Or medical students like Zoya Rahman, who recently graduated from Geisinger Commonwealth School of Medicine with the help of scholarship support.
Your gift will help medical, nursing and healthcare students gain the training and skills they need to care for more people, right here at home. Choose how you want to make a difference today:
Geisinger Commonwealth School of Medicine was founded in 2008 by our community, rather than a university or health system — establishing it as the only medical school to do so since 2004.


Our mission is to educate aspiring physicians and scientists to serve society.


We uphold Geisinger's values of kindness, excellence, safety, learning and innovation and maintain strong roots and connections with the community as we educate the healthcare workforce of the future.
How our alumni give back:
Geisinger Commonwealth School of Medicine alumni give back to the school and our community in a variety of ways, including:
Mentoring students in various specialties
Encouraging new graduates to practice medicine right here in our community after graduation
Organizing fundraising drives and donating to the School annually
The medical college first molded me into a physician and now provides me with opportunities to mentor students as a member of the faculty. Supporting this alumni board is one small way I can give back and ensure these opportunities are available for future generations of students.
I've always had a strong interest in the medical field. When the pandemic hit, I knew nursing was what I wanted to do. It never would have been possible without the Nursing Scholars Program and tuition assistance.
I am incredibly grateful for the support I receive from my scholarships. Medical school was always my dream. The patients I care for motivate and remind me every day why I chose this profession.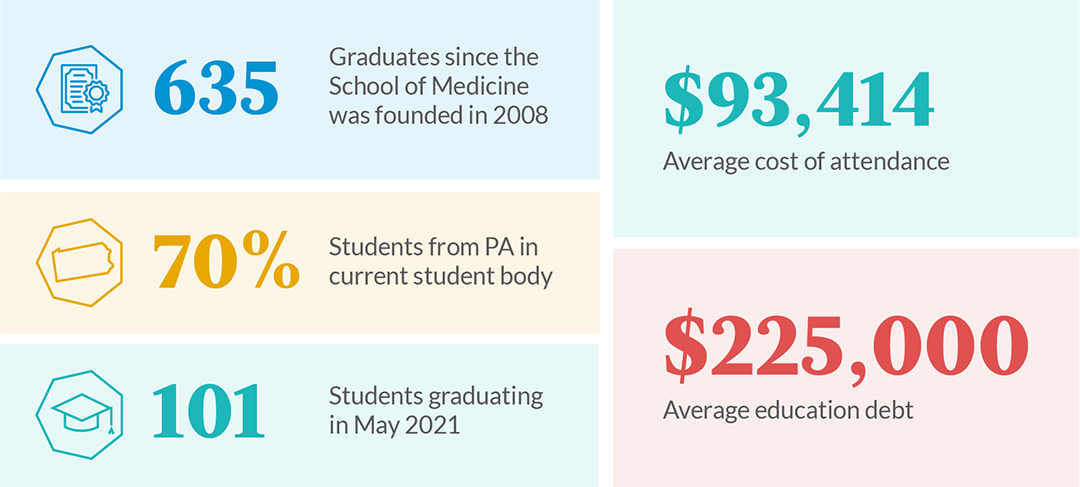 Going back to school to become a nurse was one of the best decisions of my life. I have Geisinger's Nursing Scholars Program to thank for being able to start my nursing journey.
You can help provide world-class curriculum and technology
Philanthropy allows us to invest in innovative curriculum and technologies to prepare students for the fast-changing world of healthcare treatments, prevention strategies and diagnostic tests.
Who makes this possible? Donors just like you, who support Geisinger scholarships that will help train a new generation of physicians, nurses and clinical support staff.
Clinical simulation centers
The Clinical Skills and Simulation Center and the Geisinger Education and Medical Simulation Center are remarkable resources that teach students the clinical relevance of the basic sciences, patient safety basics and interdisciplinary teamwork.
In response to the COVID-19 pandemic, we've invested in Sectra Virtual Dissection Tables — high-resolution, full-size screens that allow students to visualize and interact with over 2,000 anatomy structures in 3D and cross-sectional views, preparing them for more meaningful and efficient live lessons.
When the pandemic forced personnel restrictions on our intensive care units, we collaborated with Geisinger critical care physicians, nursing leadership and clinical informatics teams to use videoconferencing technology that allowed students to have daily interaction with the ICU team and virtual sessions on ventilator management.
It's very difficult to put into words what it means when a stranger lends you a hand to achieve your dreams. For me, it means having even more motivation to work harder at my goals so that I can pay it forward and help others through their tough times just as this scholarship has helped me during mine.
2022–2023 academic year in review

With your support, we can make certain that healthcare professionals and new students aren't denied an advanced education simply because they can't afford it. Make a gift today and help us shape the most brilliant minds in medicine, nursing and science to improve the lives of the patients they will serve.