Support the Geisinger Commonwealth School of Medicine
Pennsylvania faces a deficit of more than 1,000 physicians. At the Geisinger Commonwealth School of Medicine (GCSoM), we're working to close this gap by funding scholarships and tuition aid to bring the most advanced doctors and caregivers in health and wellness to our region, so our communities always have access to the very best.
The impact of philanthropy
Our donors help ease the growing shortage of physicians in Pennsylvania, and ensure that the brightest medical minds aren't denied an education simply because they can't afford it.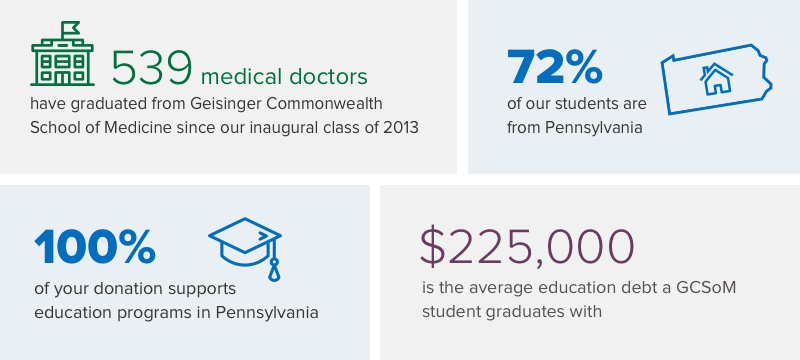 Give the gift of education, today
The cost to become a physician is on the rise. GCSoM students graduate with an average education debt of $225,000 — a figure much higher than the average debt of medical students throughout the country.
With your support, we can increase the number of scholarships available to promising students, and bring together brilliant minds in medicine and science to shape the medical pioneers of tomorrow.