Community Health Needs Assessment
Founded over a century ago as a single hospital in Danville, Pa., Geisinger now provides the highest quality healthcare services to communities throughout central and northeastern Pennsylvania. And our nonprofit mission is to not only meet the immediate healthcare needs of the people in the communities we serve, but to anticipate, identify and address future health issues and trends.
The community health needs assessment (CHNA) report helps us do that. Every three years, we conduct a thorough, formal survey to identify the specific needs of the communities and regions we serve and then develop meaningful, measurable responses.

We have taken major steps toward improvement and responsiveness to community needs at each of our hospital campuses. For more details, click on the campuses listed on the left.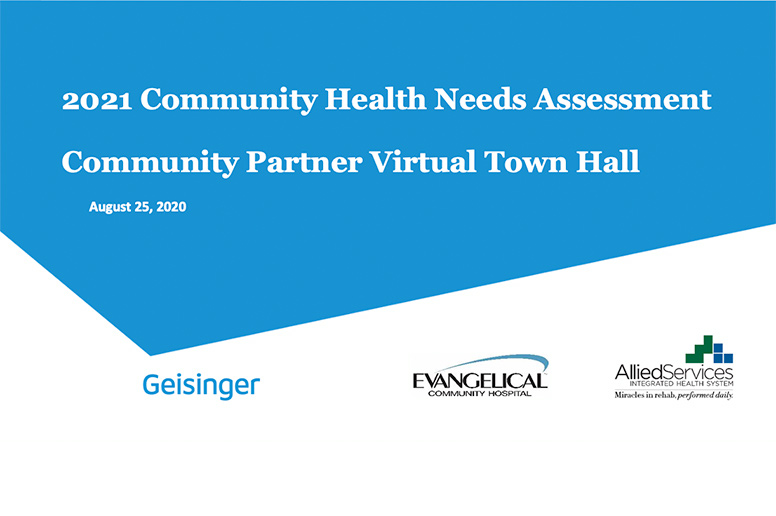 Upcoming community health needs assessment
Geisinger and it's CHNA collaborating organizations, Evangelical Community Hospital and Allied Health Services, hosted a community town hall to update community members on the plans for the 2021 Key informant Survey for the upcoming Community Health Needs Assessment.
Geisinger community health needs for 2021 through 2023
For fiscal year 2021 and through the next three years, we'll be focused on these three issues identified in the latest CHNA survey:
Access to care
Behavioral health
Chronic disease prevention and management
Geisinger community benefit facts
Geisinger's integrated healthcare system has become a nationally-recognized model of care delivery. And our goal is to help people stay well, not just through clinical treatment and positive patient experiences, but also through education and programs that can help them prevent or manage disease and live healthier lives.

Here are some of the ways we benefit our communities:
Geisinger medical services are the most advanced in the region.
We serve more than 1 million patients annually in Pennsylvania.
We partner with area hospitals and providers to strengthen healthcare delivery across our service area.
Recognizing that our employees drive everything we do, we invest more than $2 billion a year in salaries, benefits, training and education. It's one reason why we were named to the Becker's Hospital Review "100 Best Places to Work in Health Care" list.
We're supporting the local and regional economy by employing around 24,000 residents and increasing our $12.7 billion positive impact on Pennsylvania economies.
CHNA methodology
The 2021 CHNA was conducted in partnership with Geisinger, Allied Services Integrated Health System and Evangelical Community Hospital.

The study area included 19 counties across central, northeastern and south-central Pennsylvania, which represent the collective service areas of the collaborating hospitals. To distinguish unique service areas among hospitals and foster cooperation with local community partners to impact health needs, regional research and local reporting was developed.

In assessing the health needs of the community, Geisinger and its CHNA partners solicited and received input from persons who represent the broad interests of the communities served by each hospital, including those with expertise in public health, representatives of medically underserved, low income and minority populations, and other community stakeholders who brought wide perspectives on community health needs, existing community resources to meet those needs and gaps in the current service delivery system.

CHNA partnership
In conducting the 2021 CHNA, Geisinger worked with Baker Tilly, an accounting and advisory firm that offers audit, tax and management consulting services. The firm was engaged as our research partner, helping in all phases of the project.

The Baker Tilly team has worked with more than 100 hospitals and thousands of their community partners across the nation to assess health needs and develop actionable plans for community health improvement.