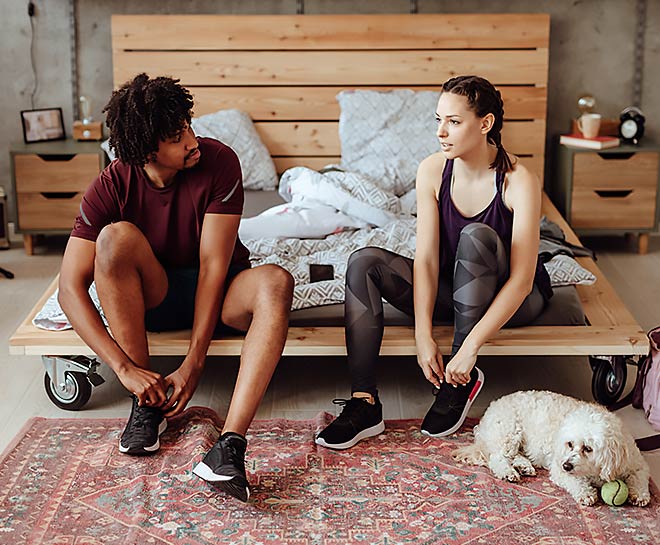 Find out if orthotic inserts are right for you
Get the support you need for your active life.
What are orthotics?
Orthotics are devices designed to help relieve heel, foot and ankle pain. In fact, if you've ever worn a heel insert from a pharmacy or sporting goods store, you've used an orthotic device.
While you can buy orthotic devices such as wedges, inserts, cushions and braces at a local store, our team offers custom-made orthotics designed to target and treat your specific condition.
Our dedicated orthotic specialists work closely with our sports medicine team providing specialized braces, slings, casts and orthotic inserts to manage conditions or help injuries heal. They also work closely with your primary care doctor as well as our orthopaedic, podiatry and physical therapy teams to help you get the most custom fit possible for your orthotics.
What conditions do orthotics treat?
Orthotics help by either providing support, protection or cushioning to areas of your feet that are causing pain or discomfort. For example, if your ankles overpronate (roll slightly inward or downward), your doctor can provide an orthotic insert that helps support your arch and prevent pronation.
Orthotic devices are often used to:
Prevent or correct foot deformities, especially in children
Provide alignment and support for your foot or ankle
Improve how your foot or ankle functions
Orthotics are especially useful in helping runners, walkers and other athletes prevent and treat many conditions. Our orthotics specialists provide custom braces and shoes that offer treatment devices for people of all ages.
Orthotics help to treat conditions including:
Bunions
Corns and calluses
Forefoot pain
Heel spurs
Knee pain, including runner's knee
Plantar fasciitis (heel pain)
Sprains and strains
Spine conditions
Pediatric neurological conditions
Torn ligaments and tendons
Your doctor may prescribe orthotics alongside other treatments like physical therapy to help treat the source of your pain and help prevent future injury.
Orthotics for diabetes
When you have diabetes, taking care of your feet is important to help prevent foot pain or other foot conditions. If you suffer from a diabetic foot condition, your doctor may recommend orthotics for diabetes.
Our orthopaedic specialists create orthotics designed specifically for your foot condition to relieve pain, numbness and discomfort associated with diabetic foot conditions. These orthotic devices, such as special shoes, can help you protect your feet.
Learn more about diabetic foot conditions.
Orthotics for pediatric neurologic conditions
If your child is living with a neurologic condition, our team can help with the latest treatment tools and techniques. For children between 3 months and 18 months old with moderate to severe deformity in head shape, our team specializes in a custom molded orthosis device called STARband.

This lightweight device can help safely reshape your child's head by redirecting head growth to improve proportion and symmetry — before and after any needed pediatric neurosurgery.
Orthotics for spine conditions
If you have a scoliosis condition, a post-traumatic spinal injury or need a post-surgical spinal brace, our team offers custom orthotic devices that can help you throughout your recovery.
Learn more about spine conditions.
*Contact your doctor for a referral to see our orthotic specialists.
Orthopaedic care at Geisinger
Comprehensive orthopaedic care: Whether you need joint replacement, sports medicine, chiropractic care or a world-renowned spine surgery program, trust us for unmatched expertise for orthopaedic conditions. We treat conditions including bone and joint pain; injuries from sports, falls and fractures; and the wear and tear of daily life.
World-class care, close to home: With locations throughout central, northeast and south-central Pennsylvania, our experienced orthopaedic team provides evaluations, consultations and comprehensive care. We offer leading-edge treatment options and tailored-to-you care backed by the expertise and innovation of a nationally renowned health system.
Round-the-clock trauma care: Emergencies don't stick to a schedule, so our orthopaedic trauma surgeons are available around the clock when they do happen. Because our specialized surgeons have advanced training in the treatment of trauma-related fractures and other injuries, you can get advanced care when you need it most.
Orthopaedic urgent care: With five locations and no appointment necessary, our Orthopaedic Urgent Care locations are ready to treat children and adults when sudden injuries occur, like minor sprains, strains or simple fractures.