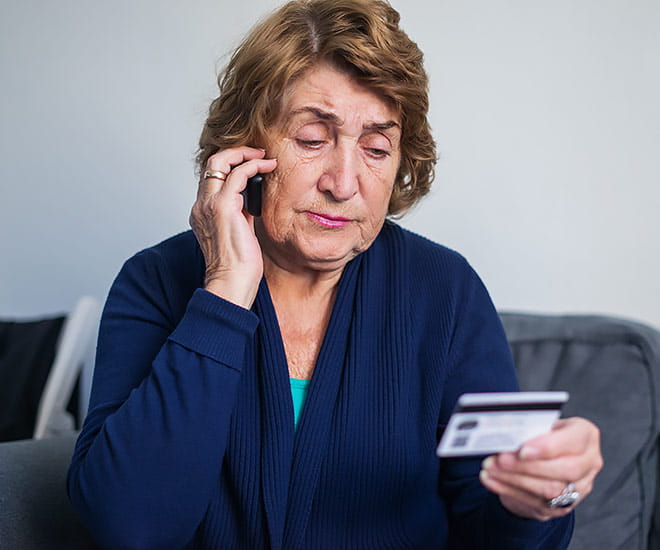 Geisinger patients and health plan members: Stay informed with security alerts
Stay informed with security alerts
Find the latest updates and safety tips to protect yourself
Geisinger security alerts
Scammers have personal information
Updated: Feb. 8, 2023

It's easy to be convinced that a caller or emailer is legitimate because they know some of your personal information — like your birth date, phone number, mailing address or medical record number. But all these things and more can be found on the internet using:
Search engines
Social media profiles
Online directories
Data brokers
Public records
Information from security breaches
Be cautious about sharing personal information online and review your privacy settings on social media and other websites to make sure your information is only shared with those you trust.
Also:
Use strong passwords
Avoid using the same password for multiple accounts
Enable two-factor authentication
Review your privacy settings regularly
Be aware of phishing scams
Hang up on anyone who asks for money over the phone
Check out the other resources on this page
Potential COVID-19 vaccine scam alert
Suspected fraudulent callers are reaching out to Geisinger patients under the guise of scheduling COVID vaccines.
If you receive an automated call or text — or a live caller contacts you — asking for your name, date of birth and Social Security number to schedule an appointment for the COVID vaccine, be on the alert.
Geisinger will never ask for your Social Security number. If someone does, don't respond. Just hang up. Don't give out this or any other personal information.
Geisinger is calling some patients to reschedule vaccine appointments that were canceled due to bad weather. But in general, eligible patients schedule their own appointments using MyGeisinger or the COVID hotline at 570-284-3657.
For more information on telephone "spoofing" and reporting fraud, see related articles on this page.
Alert to potential Medicare scam
Updated Feb.5, 2021
A caller claiming to be from Geisinger has approached some of our patients/members asking about Medicare cards. The caller uses a spoofed Geisinger phone number on the Caller ID
(see phone spoofing article below)
and asks if the patient/member has received their new Medicare card.
Regardless of the answer, they then ask the patient/member to give them the card's "start-up date." If you get a call like this, hang up. The caller is trying to get personal information about you to commit fraud.
You can report suspected fraud or scams involving Geisinger using the form on this page. We've also provided resources to help you report all types of fraud to authorities.
Watch out for fraudulent calls about knee or back braces
Several Geisinger patients and members have reported receiving fraudulent phone calls offering them knee or back braces.

The fraudulent callers may claim they are Geisinger employees, Medicare employees or brace manufacturers. They try to get the patient or member to sign up for a "free" brace, which they then bill Medicare for in your name.

In some cases, the fraudulent callers mask their telephone number on caller ID with a legitimate Geisinger office phone number to make patients and members think it is Geisinger calling — a practice known as phone spoofing. They may also spoof a legitimate government agency phone number.

The calls are probably related to a scam that was widespread about a year ago and continues to pop up from time to time.

If you receive one of these calls, hang up. Don't engage with the caller and don't give out any personal information. Encourage your family and friends to be alert for any calls that seem suspicious.

You can learn more about phone spoofing here.
Phone spoofing: Geisinger phone numbers being used in caller ID scam
Spammers using falsified phone numbers and caller ID spoofing have been targeting residents in our area.
What is caller ID spoofing?
Phone spoofing occurs when a caller deliberately makes a phone call on Caller ID look like it's coming from one number when it's actually coming from a disguised, unidentified number. This tactic is used by phone scammers to entice people to answer their phones and collect their personal information — and a recent scam involves calling local residents pretending to be representatives of Geisinger.
Scammers have been using what's called "neighbor spoofing" so it appears the incoming call is coming from a local "570" or "717" number, a larger, well-known company (such as your banking institute), a government agency (like the Social Security Administration), your healthcare or health insurance provider (like Geisinger), or other agencies you know and trust.
This practice is well known to government agencies, such as the Federal Trade Commission and Federal Communications Commission, which issue alerts from time to time.
Is phone spoofing dangerous?
Phone scammers use spoofing to try to obtain personal information from consumers, such as their date of birth, Social Security number, account numbers, passwords, credit cards or other personal information that can be used to steal their identity and commit fraud.
If you receive a call from a spoofed phone number claiming to be from Geisinger, it does not mean that our systems have been hacked.
How to stop phone spoofing?
Unfortunately, because spoofing occurs outside of secure networks (and out of Geisinger's control), you may not be able to tell right away if the number displayed on your caller ID is a spoofed number — so always be suspicious of unexpected callers.
Scammers can sound kind and convincing, and some can sound threatening.
Here are some tips from the Federal Trade Commission to protect yourself if you receive a call like this:
Hang up the phone. Never release your personal or financial information over the phone if you are not certain of the caller's identity.
Don't give your personal information out. Ask the caller for their name, department and a phone number where you can call them back. Phony callers are unlikely to have this information, but if they do, do not use any number they give you. Instead, use a number that you already know or look up the contact information for that specific department or office and call them back using that number. You can reach Geisinger's phone directory by calling 800-275-6401.
Note the number of the caller. Keep the number for your records, if possible. Even if it is a spoofed phone number, it may help authorities in pursuing the scammers.
Submit a complaint to the Pennsylvania Attorney General's Office.
Alert the U.S. Department of Health and Human Services. You can contact the Office of the Inspector General at 1-800-HHS-TIPS (1-800-447-8477) or spoof@oig.hhs.gov.
File a complaint with the Federal Trade Commission (FTC) here or by calling 1-877-FTC-HELP.
Sign up for scam alerts from the FTC here.
File a complaint with the Federal Communications Commission (FCC) and learn more about spoofing and Caller ID.
Seek advice on what to do from the AARP Fraud Watch Network Helpline. You do not have to be a member of AARP to use this service. The helpline can be reached at 1-877-908-3360.
Share what you've learned with your loved ones and those you know.
If you receive a call from Geisinger that sounds suspicious or you suspect may be fraudulent, hang up. Call the department the caller says they are representing by contacting Geisinger's main phone number at 800-275-6401. You can also call our Information Security Office at 570-271-8119 (Mon. to Fri., 8 a.m. – 5 p.m.).
Genetic testing scam has resurfaced in our area
Updated March 30, 2022
This scam, which began a few years ago, has many variations and can be directed at patients or providers.
The scam often involves attempted Medicare fraud by calling patients and trying to get their Medicare and other personal information for a "free" genetic screening.
Another variation goes a step further. Fraudsters send unrequested genetic testing kits to your home, claiming you are Medicare-eligible and trying to get your Medicare number and personal information that way. If successful, they could bill Medicare fraudulently and/or use your information to commit identity theft.
In the case of providers, scammers send faxes to providers asking them to sign off specifically on cardiovascular genetic testing in patients' names.
Do not engage with these unsolicited invitations. If you want or need any genetic testing, go through your known, trusted medical provider.
What you should do
The U.S. Department of Health & Human Services advises:
If you have a genetic testing kit mailed to you, don't accept it unless it was ordered by your physician. Refuse the delivery or return it to the sender. Keep a record of the sender's name and the date you returned the items.
Be suspicious of anyone who offers you "free" genetic testing and then requests your Medicare number. If your personal information is compromised, it may be used in other fraud schemes.
A physician that you know and trust should assess your condition and approve any requests for genetic testing.
If you're a Medicare beneficiary, be wary of unsolicited requests for your Medicare number. Don't give anyone (other than your physician's office) your Medicare information.
If you suspect Medicare fraud, contact the HHS OIG Hotline.
Another resource is the AARP's free Fraud Watch Network Helpline at 877-908-3360. You don't have to be a member to use this service.
Updated March 30, 2022
COVID-19 vaccination status scam
Updated June 6, 2021

Need to provide proof that you've been vaccinated against COVID-19? Don't fall for a scam.
Right now, there's no standardized way to prove you've been vaccinated against, or even tested negative for, COVID-19. You may have received a COVID-19 vaccination card from the CDC, but even that may not be enough to provide proof in certain circumstances.
Some states, companies and other organizations are creating their own methods for verification, including mobile apps and digital passports or certificates. Some of these methods connect to state immunization databases, while others rely on the individual to report their status.
But according to the U.S. Federal Trade Commission, scammers are trying to cash in on the confusion around COVID-19 vaccine verification.
Besides refraining from sharing your COVID-19 vaccination card online, because of the
risk of identity theft
, here are a few other ways to help stay ahead of the scammers:
Be skeptical of anyone contacting you from the federal government. Right now, there are no official plans to create a national vaccine verification app, certificate or passport. If you get a call, email or text from someone stating they're from the federal government and asking you for personal information, or money, to get a national vaccine certificate or passport — it's a scam.
Check with airlines, cruise lines and event venues about their requirements. Don't rely on information from someone who calls, texts or emails you out of the blue.
Contact your state government about its vaccine verification plans and requirements.
Don't share your information with just anyone. Scammers often set up real-looking websites to sell fake goods and services. Before you share any information online, research who's asking for it — search online for the company or organization's name with words like "scam," "review" or "complaint." And always think twice about sharing personal information, like your Social Security, Medicare, credit card or bank account numbers with just anyone. Scammers can steal your information to commit fraud and identity theft.
Updated June 6, 2021
Social media scam centers on pandemic relief
Scammers are targeting people on Facebook and other social media, promising pandemic relief funds of as much as $150,000.
The scammer assumes the identity of one of your Facebook friends, so the messages appear to be coming from someone you know. The "friend" explains how the relief fund money changed their lives. Eventually, they offer to give you the phone number of an "online assistant" and encourage you to call them, too.
The real goal is to obtain your personal information for identity theft and fraud.
If this happens to you, see the articles on phone spoofing and reporting fraud on this page.
Keep your identity safe this tax season
Want to make sure you get your tax refund and protect your identity? Here are a few tips for tax season security.
Stay alert for potential scams:
Tax identity theft. This happens when someone uses your Social Security number (SSN) to file a fake tax return and collect your refund. Unfortunately, you might not discover it has happened until you try to file your real tax return and the IRS rejects it as a duplicate filing. Guard your SSN carefully and don't send your SSN electronically unless it's encrypted. The same goes for your W-2 and other official income and tax forms. They all contain vital personal information that criminals can use to steal your identity — including possibly your tax refund.
IRS imposters. If you get a call from someone who claims they're from the IRS, saying you need to pay owed taxes right then, usually with a gift or prepaid debit card, be on high alert. These imposters might even threaten that you'll be arrested or face other bad consequences if you don't pay. The IRS doesn't operate this way, so just hang up the phone.
Tax relief companies. They use the radio, television and the internet to advertise help for taxpayers in distress. If you pay them an upfront fee, which can be thousands of dollars, these companies claim they can reduce or even eliminate your tax debts and stop back-tax collection by applying for legitimate IRS hardship programs. The truth is, most taxpayers don't qualify for these programs, their companies don't settle the tax debt, and in many cases don't even send the necessary paperwork to the IRS. In fact, you may end up without a refund and deeper in debt. Some taxpayers have reported that, after signing up with some of these companies and paying thousands of dollars in upfront fees, the companies took even more of their money by making unauthorized charges to their credit cards or withdrawals from their bank accounts.
How to stay safe:
Protect your SSN throughout the year. Don't give it out unless there's a good reason and you're sure who you're giving it to.
File your tax return as early in the tax season as you can.
Use a secure internet connection if you file electronically, or mail your tax return directly from the post office.
Research a tax preparer thoroughly before you hand over personal information.
Check your credit report at least once a year for free at annualcreditreport.com. Make sure no one has opened a new account in your name.
Visit the IRS Consumer Alerts page here to learn more about tax scams and what you can do to protect yourself.
Reporting fraud helps everyone — and now it's easier to do
You can help the U.S. Federal Trade Commission (FTC) and its partners fight fraud in our community. When you tell the FTC about frauds, scams and other bad business practices, you're helping the FTC and its law enforcement partners spot and stop scams. To make it easier, the FTC just launched ReportFraud.ftc.gov — a new version of the FTC's consumer reporting website.
By following a few short steps on ReportFraud.ftc.gov, your report is instantly available to more than 3,000 federal, state and local law enforcers across the country. After you explain what happened, you'll receive advice about what you can do next to recover and how to protect yourself in the future.
Want to see how it works?
Watch this "How To" video.
Why report fraud?
Because your report can make a difference. The FTC uses reports like yours to investigate, bring cases to law enforcement and alert people about what frauds to be on the lookout for so they can protect themselves, their friends and family. The FTC also uses reports to share data about what's happening in your community. You can check out what's going on in your state or metro area by visiting the FTC here.
Help spread the word.
By encouraging people to tell the FTC about their experience in English at ReportFraud.ftc.gov or in Spanish at ReporteFraude.ftc.gov, you're helping fight fraud in our community.
Geisinger will never ask you for your password.
If an unsolicited caller asks for your:
Social Security number
Mother's maiden name
Banking information
Do not give this information out. Instead, call back using a phone number you know or have obtained from a legitimate source.