Support pediatric care at Geisinger
Pediatric services at Geisinger span a wide range of communities and our specially trained doctors and nurses are prepared to treat the most complex issues with expertise in more than 30 medical and surgical disciplines.
Philanthropy helps us continue to expand and advance care across Geisinger Janet Weis Children's Hospital, Janet Weis Children's Hospital Pediatric Services Unit at Geisinger Wyoming Valley in Wilkes-Barre, Geisinger Shamokin Area Community Hospital, Geisinger Community Medical Center in Scranton, Geisinger Bloomsburg Hospital, Geisinger South Wilkes-Barre's Pediatric Urgent Care Center and pediatric specialty clinics across our region.

The impact of philanthropy
Our donors ensure that when a child is seriously ill, injured or facing a life-threatening condition, pediatric specialists are there to provide the most advanced care using state-of-the-art technology along with a caring, personalized experience.
That was certainly true for sixteen-year-old Ryan Cappel, who was airlifted to Geisinger Janet Weis Children's Hospital after being critically injured in a car accident just before Christmas a few years ago. After eight surgeries on Ryan's leg and spleen, our incredible team of surgeons and specialists were not only able to save his life, but he was able to return to playing baseball and football the following year.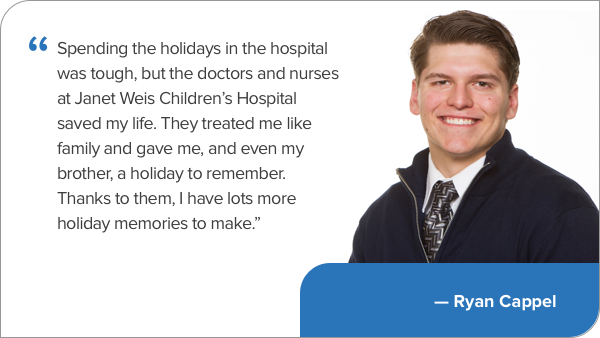 Give the gift of a healthier future, today
December 2019 marks the 25th anniversary of Geisinger Janet Weis Children's Hospital. As we look back on the past two decades and celebrate every single donor, we're also looking to the future.
Your gift, no matter the size, will help kids live better and feel their best, in big ways and small, by helping to support pediatric services including:
Child life specialists who explain procedures, medical conditions and medical equipment in ways that are easy for children and their families to understand
Innovative care that brings the world to our region with doctors and nurses who provide expertise in more than 30 medical and surgical disciplines
Life-saving equipment like ventilators and bedside ultrasound equipment
Services and amenities for children and their families, such as recliners and sofa beds that allow parents to stay in their child's room during hospital stays