Spinal fusion patient a role model for teens
Laurel Stiekes isn't your typical teenager. At just 13 years old, this spirited young woman from Moosic, Pa., was ready to take on the world after spine surgery.
A fierce competitor in school sports and a participant in state and national beauty pageants, Laurel had an active life until she started to experience exhausting daily pain.
"I was having trouble walking for long periods of time, sitting for long periods of time. I was in pain and I didn't know why," says Laurel. She complained about extreme fatigue, but her mother, Tricia, initially brushed it off as growing pains. "She just shot up 4 inches," she says. But a different perspective would change her mind.
Seeing the signs of scoliosis
On a family vacation, Tricia noticed something wasn't quite right about Laurel. "Walking behind her, I saw that her back seemed askew," says Tricia. After their pediatrician referred Laurel to Dr. Meagan Fernandez, pediatric orthopaedic surgeon at Geisinger Medical Center, the diagnosis became clear: Laurel was suffering from acute scoliosis, or curving of the spine. While many people with scoliosis don't need surgery, Laurel's spine had a significant curvature: 55 degrees to the right and 41 degrees to the left.
"My spine looked like a spiral staircase," says Laurel. "It wasn't just curved; it was completely twisted." To live without pain, she would have to undergo spinal fusion surgery.
Spinal fusion surgery helps relieve Laurel's pain
Together, Nancy Rowlands, PA-C and Dr. Fernandez performed a six-hour posterior spinal fusion using Mazor Robotics technology. After 2 titanium rods and 22 screws, Laurel's spine curvature was brought back to just 10 degrees. With this new adjustment, she was ready to reach new heights in more ways than one. "I grew 2 inches in one day," she says.
But before she could take the stage again, Laurel had to undergo vigorous physical therapy. Remarkably, after only four days in the hospital and many rounds of inpatient physical therapy, she headed home to recover — and to live her busy life pain-free.
Reaching new heights after spine surgery
To her doctor, Laurel is nothing short of remarkable. "She's a tremendous patient with a great outlook on life and a very, very positive attitude," says Dr. Fernandez. With connective care, continual follow-ups and the personal connections she made with her doctors and the staff, Laurel is thankful for the strength she has been given to take on the world. Though her flexibility is a bit limited, her opportunities are now endless.
After surgery, Laurel hasn't just taken back her life — she's living it to the fullest. Throughout her journey, Laurel never lost her competitive spirit. At 17 years old, she found her stride on the soccer field, basketball court and football field as a varsity cheerleader. And for added physical therapy, she's been practicing tae kwon do.
Laurel has continued to take to the pageant stage, where she earned the title of USA National Miss Teen in 2017. The former Miss Teen isn't shy about wearing backless gowns to show the badge of courage she earned on her difficult journey.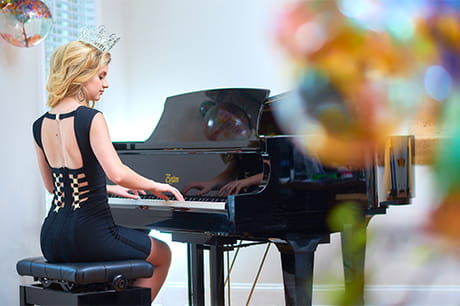 I used to be scared to show my scar in pageants," says Laurel. "But it doesn't bother me anymore. It makes me who I am, and I'm really proud of that.