Get virtual urgent care anywhere.
(Even at Knoebels.)
Anyone who's ever visited Knoebels Amusement Resort knows it's a ton of fun. And according to Brian Knoebel, being part of the team that runs it is fun, too — unless you have a bad case of poison ivy.
One Tuesday last August, Mr. Knoebel got into a patch of the pesky plant, and his rash became unbearable. He called his regular doctor and was offered a Thursday appointment. Then he checked his local ConvenientCare, only to find out there was a 202-minute wait. Waiting two days or taking three hours off from work weren't options for him, so he decided to try Geisinger's virtual urgent care.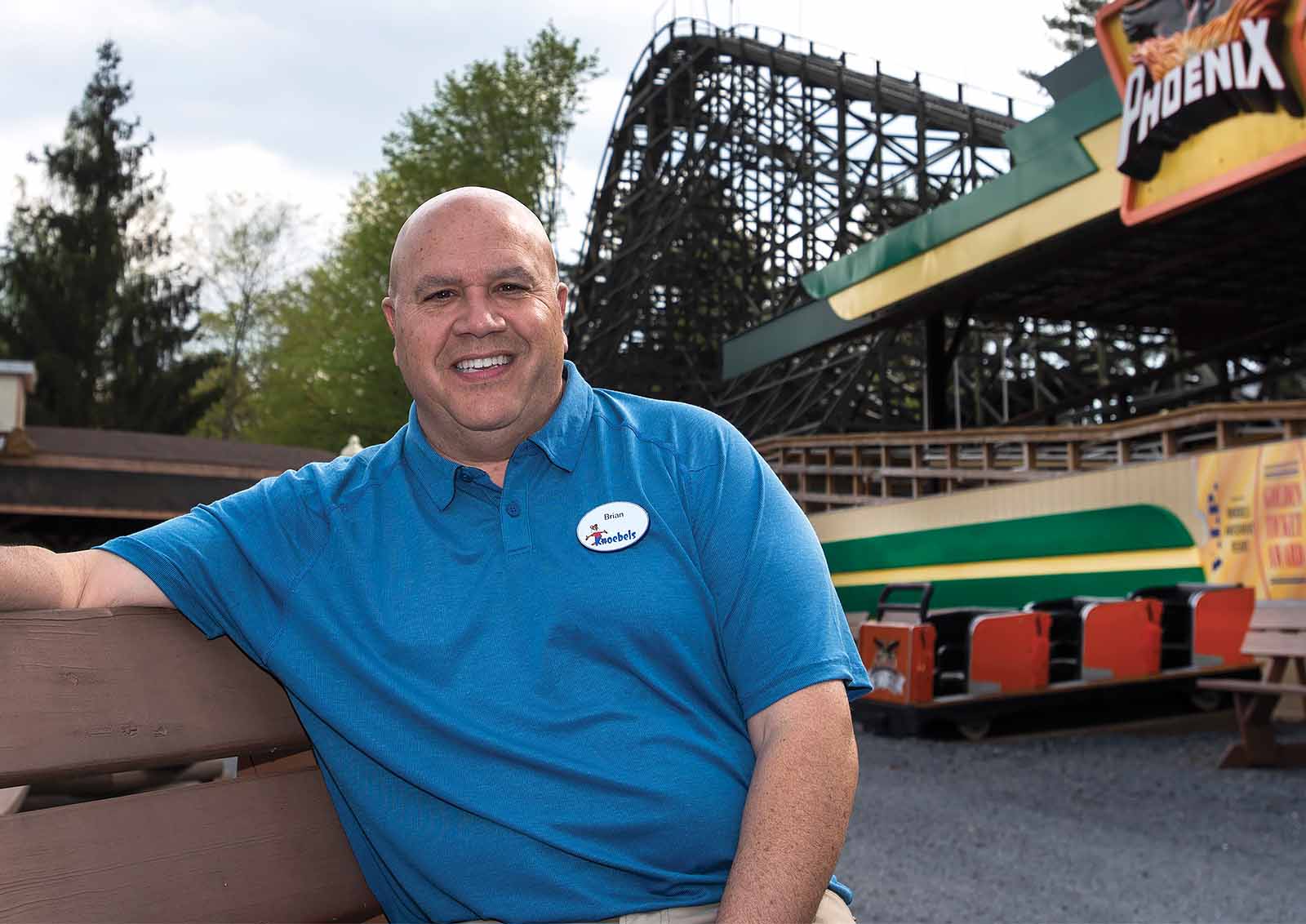 In just minutes, virtual urgent care lets you see a provider in real time through a video connection. Mr. Knoebel tried using his cell phone to connect, but incoming calls kept forcing him offline. Alexis Keister, a patient access representative at Geisinger, noticed he was having trouble and reached out to see if she could help with any technical issues.
Ms. Keister scheduled Mr. Knoebel for a video visit at 2:45 p.m. with Nicholas Iaccarino, DO. By 3:15 p.m. the appointment was complete, and Mr. Knoebel's prescription was sent to his local pharmacy for him to pick up. He was so happy with the customer service he received that he asked to speak with Ms. Keister's supervisor.
"I can't think of a single Fortune 500 company that will reach out to you when you're having a technical issue. The service I received today was completely unexpected and excellent."
Skip the waiting room with these 5 types of virtual visits
With just a smartphone, tablet or computer, you can visit your doctor without leaving home. Lots of telehealth options exist, but these are the virtual virtuosos.
Primary care – If you have an established primary care doctor, they can discuss your symptoms, diagnose and treat you in a virtual visit just the same as they would in a clinic.
Specialty care – Can't find a specialist near you? A telehealth visit can bring you face to face with a specialist anywhere in the network. Don't have a good internet connection or webcam? Go to your local clinic for the appointment and the staff will help you get connected to your specialist, even if they're miles away.
Urgent care – Virtual urgent care gets you same-day care and prescriptions (if needed) for minor medical problems, like cold and flu, bronchitis, sore throat and urinary tract infections. Best of all: no long waits in a roomful of other sick people.
Behavioral health/psychology – Since therapy consists of conversations with a mental health professional, this type of appointment lends itself well to telehealth. Get help for conditions such as addiction, anxiety, depression and obsessive-compulsive disorder.
Orthopaedics – Connect with an orthopaedic provider for a video consultation. A healthcare professional will assess your sprain or strain and tell you if you need to make the trip to orthopaedic urgent care.
Before your Geisinger telemedicine visit, make sure you have a strong Wi-Fi signal. If you get disconnected, you can reconnect via the link in your email. Still having issues? Call 888-530-9560 for help.
While video visits are convenient, they can't always replace in-person care. Situations like a cut needing stitches, chest pain or high fever mean you should head to the nearest urgent care or ER — or call 911.
"I'm 49 years old and consider myself to be tech savvy, but I still needed help. It's a relief knowing Geisinger would be able to help my 83-year-old father if he were to have technical issues. It shows you're really thinking about your patients," Mr. Knoebel says.

Mr. Knoebel was equally pleased with the care he received in his video visit. "I was able to complete my appointment from my office — I didn't need to drive anywhere or wait in line," he says. He mentioned his experience to the employee benefits manager at Knoebels. She tried Geisinger's virtual urgent care herself and was equally impressed. Now she's making sure all Knoebels employees know about this service. Because the Knoebel family and its employees are serious about keeping the fun going.
---
This story originally appeared in PA Health, our quarterly full-color magazine filled with wellness tips, inspiring stories and more.
Sign up to have PA Health sent to your mailbox or inbox 4 times a year, for free.
The wellness you need, in a style you'll love — delivered.