Puzzled by Medicare? Don't be. With a little basic knowledge, getting the right coverage can be child's play.
(And if you need some hints along the way, it's not cheating to ask the experts.)
Answers are at the bottom of the page.
Or, click below to see the games as they appear in our print issue.
Let's play!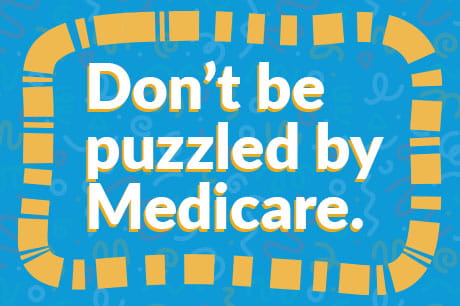 ---
Moving Toward Medicare
As you advance to your 65th birthday, you'll pass some Medicare milestones. Make sure you stop at each one, so you'll cross the finish line a winner!
★
9–12 months before: Confirm eligibility.
★
3 months before: Enrollment begins.
★
65th birthday month: Congrats! You still have 3 months to enroll.
★
3 months later: This is your last chance. Enroll now and collect your benefits!
---
Medicare Advantage Myth Buster
Geisinger's Medicare Advantage plan is called Geisinger Gold. All the options below may be covered, depending on the plan you choose. But which two options come with every Geisinger Gold Medicare Advantage plan?
A. Dental care
B. Vision care
C. Membership in 65 Forward
D. Coverage for Medicare Parts A and B
E. Prescription drug coverage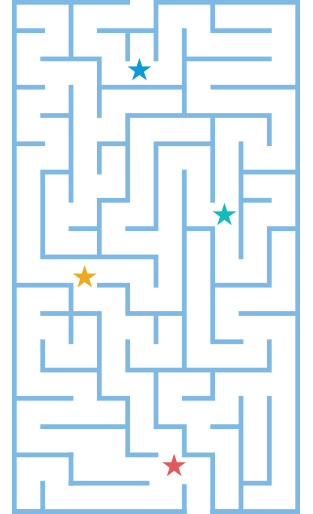 ---
Medicare Match
Medicare has four parts — each covering a different "part" of healthcare. Can you match the parts of Medicare and what they cover?
Part A 1. Prescription drugs
Part B 2. Hospital stays
Part C 3. Outpatient care
Part D 4. Private insurance that may offer extra benefits — also called Medicare Advantage
---
Medicare Mixer
Don't let Medicare spin you around. Unscramble these common Medicare-related terms and boost your knowledge about coverage.
A list of prescription drugs covered by a plan.
Y M L U A R O F R
A person who has insurance through Medicare or Medicaid.
C F E E N B I I R A Y
An amount you pay for care or prescriptions before Medicare or other insurance coverage begins to pay.
B T U C D E I D E L
When you choose to join or leave a Medicare plan.
N O E L I C T E
---
Medicare Math
These numbers really add up: The more providers who accept your Medicare Advantage plan, the more options you have for care. How many providers accept Geisinger Gold — which means you're covered when you see them?
---
Medicare Message
We're leaving you with one last clue to making the most of Medicare. Can you decode the message?
Vwloo sxccohg eb Phglfduh? Fdoo rxu Phglfduh hgxfdwruv. Wkhb'oo eh kdssb wr dqvzhu brxu txhvwlrqv.
(Hint: The letter H equals E.)

---
Geisinger Gold Medicare Advantage HMO, PPO, and HMO D-SNP plans are offered by Geisinger Health Plan/Geisinger Indemnity Insurance Company, health plans with a Medicare contract. Continued enrollment in Geisinger Gold depends on contract renewal. Geisinger Health Plan/Geisinger Indemnity Insurance Company are part of Geisinger, an integrated health care delivery and coverage organization.
Y0032_23167_4_M Accepted 6/21/23
Answers
Medicare Advantage Myth Buster: C and D. All Geisinger Gold plans cover Medicare Parts A and B, and if you want to join a Geisinger 65 Forward Health Center, your membership is covered, too.
Medicare Math: 30,452
Medicare Match: A-2, B-3, C-4, D-1
Medicare Mixer: FORMULARY, BENEFICIARY, DEDUCTIBLE, ELECTION
Medicare Message: Still puzzled by Medicare? Call our Medicare educators. They'll be happy to answer your questions.
(You can reach them by calling 800-482-8163 (TTY: 711) Monday – Friday, 8 a.m. – 8 p.m. or Saturday, 8 a.m. – 2 p.m.)
---
This story originally appeared in PA Health, our quarterly full-color magazine filled with wellness tips, inspiring stories and more.
Sign up to have PA Health sent to your mailbox or inbox 4 times a year, for free.
The wellness you need, in a style you'll love — delivered.
Content from General Links with modal content