Cooking Corner: Healthy holiday!
No matter what health condition you may have, food plays an important role in chronic disease. Whether you have diabetes or kidney disease, heart disease or arthritis, making healthy food choices on most days is always recommended.
Luckily, there are ways to maintain a healthy diet, even during the holidays. For example, favorite recipes can be made healthier by simply choosing a lower-fat or lower-sugar version of some ingredients — like substituting unsweetened applesauce or margarine for butter. You can also replace whole milk with fat-free, almond or evaporated milk. And adding a bit of lemon juice or vinegar to skim milk creates a buttermilk substitute.

If your recipe calls for cream cheese, try the light version or even part-skim ricotta cheese. Whole sour cream can be replaced with light sour cream or plain non-fat Greek yogurt.

If sugar is non-negotiable in your holiday baking, 1/3 to ½ less than the amount stated in the recipe is suggested. To enhance sweetness, try adding cinnamon, cloves, allspice, nutmeg, vanilla or almond extract.

Making a few wise choices like these will keep you on track into the New Year.


Healthy Holiday Sugar Cookies
Makes 30 servings

Ingredients:
5 tablespoons butter- softened
¾ cup sugar
1 large egg-room temperature
1 teaspoon vanilla extract
1 2/3 cups all-purpose flour
1 teaspoon baking powder
¼ teaspoon salt

Directions:
1. Using a mixer, beat butter and sugar until creamy.
2. Add the egg and vanilla, mixing well.
3. In another bowl, whisk together the flour, baking powder, and salt. Gradually stir the flour mixture into butter and sugar until dough forms. Don't worry if the dough seems a little crumbly at first; it will come together.
4. Wrap dough in plastic and chill for two hours in the refrigerator.
5. Heat the oven to 350 degrees F. On a lightly floured surface, roll out dough to a 1/4-inch or 1/8-inch thickness.
6. Use holiday cookie cutters dipped in flour to make cutouts. Gather scraps and re-roll until all the dough is used.
7. Place cookies 1 inch apart on a parchment-lined cookie sheet. Bake for 9 to 10 minutes or until the edges are lightly browned. Wait 1 minute and then transfer cookies to a wire rack to cool completely.
8. Store tightly covered for up to two weeks.


Nutrition information per serving: Calories 53, protein 1 g, carbohydrate 7 g, fat 3g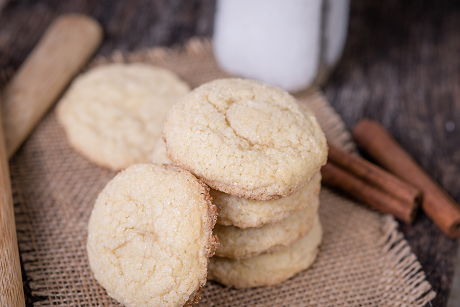 Content from General Links with modal content