Home heating hazards to avoid
Colder temperatures bring the risk of home heating fires. But a few simple suggestions from the Red Cross can keep you safely cozy, all season long.
Space heaters can be hazardous and should be avoided if possible. If you must use one, place it on a level, hard, nonflammable surface, such as a ceramic tile floor. Don't place it on rugs and carpets, or near bedding and drapes. And keep it away from children and pets.


Plug space heater power cords directly into outlets — never into an extension cord. Turn it off every time you leave the room or go to sleep.


Never use a cooking range or oven to heat your home.


Never leave a fire in the fireplace unattended. Use a glass or metal fire screen to keep the fire and embers in the fireplace.


Have wood and coal stoves, fireplaces and chimneys inspected annually by a professional and cleaned if necessary.

Make a plan and test smoke alarms:

To help protect your family year-round, test your smoke alarms monthly and practice your home fire escape plan until everyone can escape in less than two minutes.

Remember, fires can spread quickly.

Visit RedCross.org/fire for more information, including an escape plan to practice with your family. You can also download the free Red Cross Emergency app (search "American Red Cross" in app stores).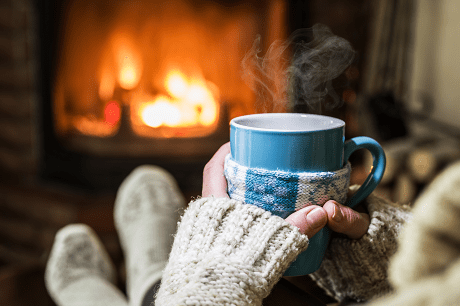 Need help paying your heating bills?
As the air gets colder and the days get shorter, we want to make sure you're warm, comfortable and healthy in your home.
NeighborlyPA.com
can help. Just enter your zip code to search for local heating assistance and resources for home maintenance and weatherization.
You can also contact the Low-Income Home Energy Assistance Program (LIHEAP), which helps qualifying families pay their utility bills. To learn more, call
866-857-7095
, contact your county assistance office or visit the LIHEAP website.
Your local Area Agency on Aging office can also connect you to resources. Or give your local utility provider a call to see if they offer discounts, tips or programs to help save you money.