Cooking Corner: Air fryer healthy cooking
If you're looking for a new healthy cooking method that uses very little or no oil and produces crispy foods, an air fryer can be a great option
Here are some air fryer cooking tips:

1. Preheat for optimum cooking. Preheating ensures that the temperature and air flow will be at right levels and foods will cook well.

2. Don't overcrowd the basket and shake foods halfway through cooking time to ensure equal heat distribution and prevent unevenly cooked ingredients.

3. Add the right amount of oil. You only need 1-2 teaspoons for most recipes or 1-2 tablespoons for breaded items. Choose an oil that contains monounsaturated fat (which is healthier for your heart) such as olive, peanut or canola oil.

4. Make fried veggie dishes that are tasty and packed with vitamins and minerals.

5. Prepare "from scratch" recipes. Convenience foods like frozen fries, fish sticks and chicken fingers are already fried, so cooking them in the air fryer doesn't save any fat or calories.

6. Wash frequently. Wash your air fryer after each use. For easier cleanup, spray the basket with nonstick cooking spray prior to use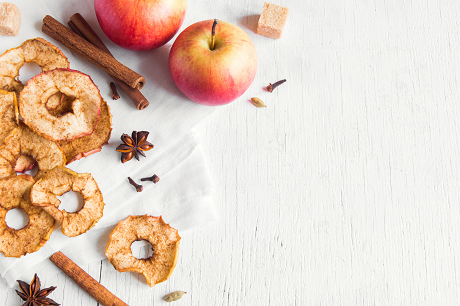 Air-fried cinnamon apple chips
Eat a serving now and save the rest of the apple chips for later. This is a nutritious snack that pairs nicely with your favorite yogurt dip. It's great for satisfying your sweet tooth while providing vitamins, minerals and fiber.
Makes 4 servings of 6-8 apple chips.
Ingredients:
1 (8 oz.) Fuji or Honeycrisp apple
1 teaspoon ground cinnamon
2 teaspoons canola oil
Cooking spray
Directions:

1. Preheat air fryer to 375° F.

2. Thinly slice the apple. Place the slices in a bowl with the cinnamon and oil. Toss to coat evenly.

3. Coat air fryer basket with cooking spray. Place 7-8 apple slices in a single layer and cook for 12 minutes, turning the slices every 4 minutes and rearranging to flatten them. Apple slices will not be completely crisped but will continue to crisp upon cooling. Repeat this process with remaining apple slices.

4. To serve, place 6-8 apple slices on each plate with a serving of yogurt for dipping.

Nutrition information per serving:
Calories 41, protein 0 g, carbohydrate 6 g, fat 2 g