Cooking Corner: Slow-cooker salsa chicken
I don't know what to make for dinner!
Do you ever find yourself saying this? End the uncertainty with our healthy suggestions.

1. Treat yourself to breakfast foods at other meals, such as whole-grain cereal with dried or fresh fruit and low-fat milk or yogurt.

2. Have a salad or sandwich night.

3. For a 1-dish meal that serves 2, try this no-fail, mix-and-match dinner, using 1 cup of each type of ingredient:
Cooked chicken, turkey or beef
Barley, rice or diced potatoes
Steamed, canned or leftover vegetables
Tomato sauce or low-fat cream soup
Put your picks in a skillet and simmer until mixture becomes bubbly.
Slow-Cooker Salsa Chicken
Spice up dinner the easy way with this tasty, no-fuss meal.
2 boneless chicken breast halves
8 ounces salsa
1 cup frozen corn, thawed
1 can no-salt-added black beans, rinsed and drained
6 ounces no-salt-added diced tomatoes and green chilies, undrained
½ tsp. sugar
Dash of salt
Dash of pepper
Directions:

1. Place all ingredients in your slow cooker and cook on low for 3 to 4 hours, until chicken is done.
2. Serve with hot cooked rice, chopped tomatoes, chopped green onions and/or cubed avocado.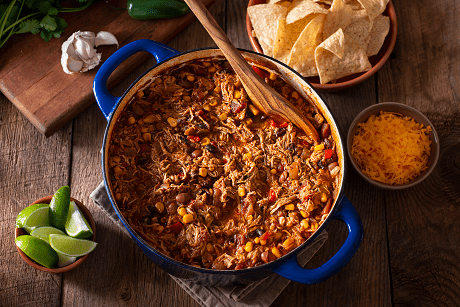 Content from General Links with modal content