Cooking Corner: Easy grilled peaches
Sweet, refreshing grilled fruit
Grilling fruit is a great way to add more of this nutrient-rich, naturally sweet and fiber-loaded food group to your diet. As fruits slowly grill, the sugars caramelize, resulting in wonderful changes in flavor and texture.

Fruits that grill nicely include plums, nectarines, melons, apples, pineapple — and summer-ripe peaches.

Easy grilled peaches

Ingredients:
4 medium peaches
Olive oil
1. Wash peaches, slice in half and remove pit.
2. Drizzle lightly with olive oil and toss gently.
3. Place skin-side down first and grill at 350-400 degrees for about 4 – 5 minutes. Flip and grill for another 2 – 3 minutes until flesh develops grill lines.
4. Remove from the grill and enjoy. Make it even sweeter with a small scoop of frozen yogurt!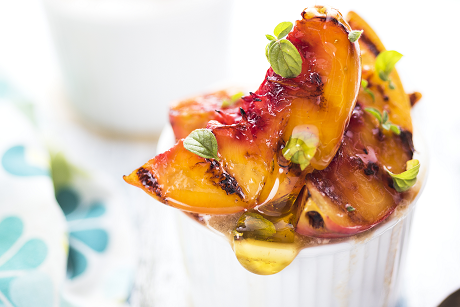 Content from General Links with modal content