Eggs pack a punch with vitamins and high-quality protein
Servings: 6
Ingredients
2 tsp. canola oil
1 medium sweet pepper, cut in strips
1 cup of corn
2 cups of cooked brown rice, chilled
1 15 oz. can of black beans, rinsed and drained
1 tsp. chili powder
½ tsp. ground cumin
6 eggs
½ cup of freshly chopped onion
¼ cup salsa verde
¼ cup cilantro

Instructions
In a large skillet, heat 1 tsp. oil over medium high heat.
Add pepper strips and corn, rice, black beans, chili powder, cumin.
Cook 5 minutes, stirring occasionally.
In a separate skillet, heat with 1 tsp oil. Break eggs into skillet and reduce heat to low to cook for 3 to 4 minutes until whites are completely set.
Add rice and vegetable mixture to bowl.
Top each serving with egg, salsa verde, onion.
Enjoy!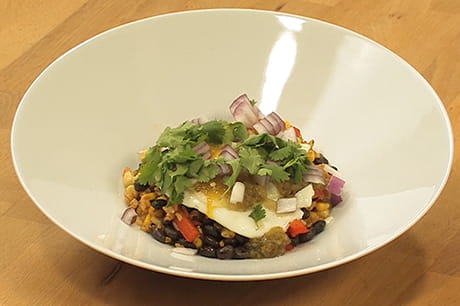 Content from General Links with modal content