Registered dietitian nutritionist Amanda Otruba's Greek Quinoa Bowl offers a bounty of benefits for a healthy colon: high-fiber and plant-based sources of protein from quinoa and beans, antioxidant-rich veggies and healthy fats from avocado.
Serves 4
Ingredients

1/2 cup dry quinoa
1 cup water
4 cups fresh spinach
1 can chickpeas, drained and rinsed
1 can black beans, drained and rinsed
1 tomato, chopped
1 cup cucumber, chopped
1/2 cup parsley, chopped
1 avocado, thinly sliced
1/2 cup hummus
1 lemon, sliced into wedges
Salt and pepper to taste

Directions:
In a medium pot over high heat, add quinoa and water, bring to a boil. Cover; simmer 13-15 minutes until quinoa is fluffy and water is absorbed.
While quinoa is cooking, mix all ingredients together for vinaigrette.
In a bowl or plate, add 1 cup spinach, 1/4 of the quinoa, 1/4 of the chickpeas, 1/4 of the black beans, 1/4 tomato, 1/4 cup cucumber, 2 tbsp parsley and 1/4 avocado.
Top with 2 tbsp. hummus and the juice of one lemon wedge.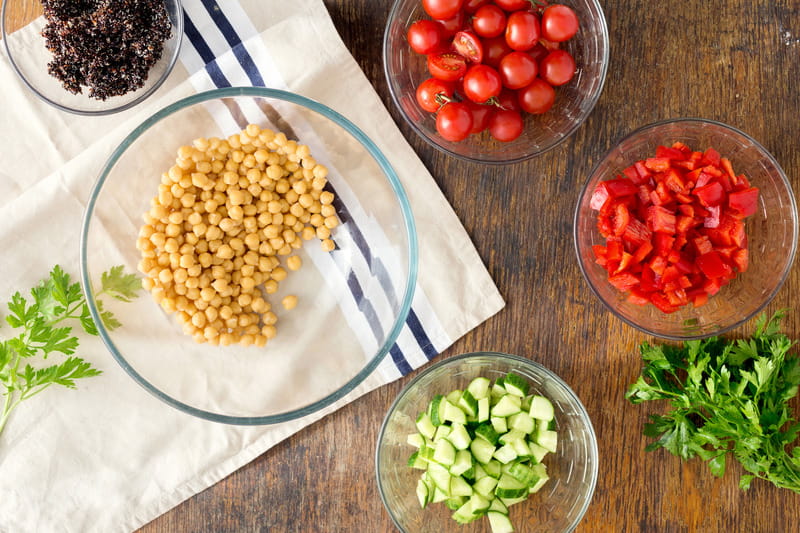 Content from General Links with modal content