Fruit and Salmon Salad with Greek Yogurt Balsamic Vinaigrette
Dietitian Amanda Otruba's Fruit and Salmon Salad is packed with benefits to boost colon health. Its fruits, lettuce and spinach are rich in antioxidants, while salmon is a lean source of protein and provides plenty of omega 3 fatty acids. The Greek yogurt dressing offers an excellent source of probiotics and protein, coupled with the cancer-fighting properties found spinach's folic acid.
Serves 1
Ingredients
Fruit and Salmon Salad
6 oz. salmon or 15 small shrimp, cooked and deskinned/deshelled
2 cups spinach, torn into bite-sized pieces
1 cup romaine lettuce, torn into bite-sized pieces
6 large strawberries, sliced
1 cup pineapple, diced
2 carrots, peeled and diced
1/2 cup dried cranberries
1/2 cup sliced almonds
Greek Yogurt Balsamic Vinaigrette
1/4 cup plain Greek yogurt
1/8 cup balsamic vinegar
1 tbsp. olive oil
1-1/2 tsp. Dijon mustard
1-1/2 tsp. honey
Salt and pepper to taste
Directions:
Cook fish as desired. Cut into bite-sized pieces.
Mix together all ingredients for salad.
Add all ingredients together for dressing and pour over salad.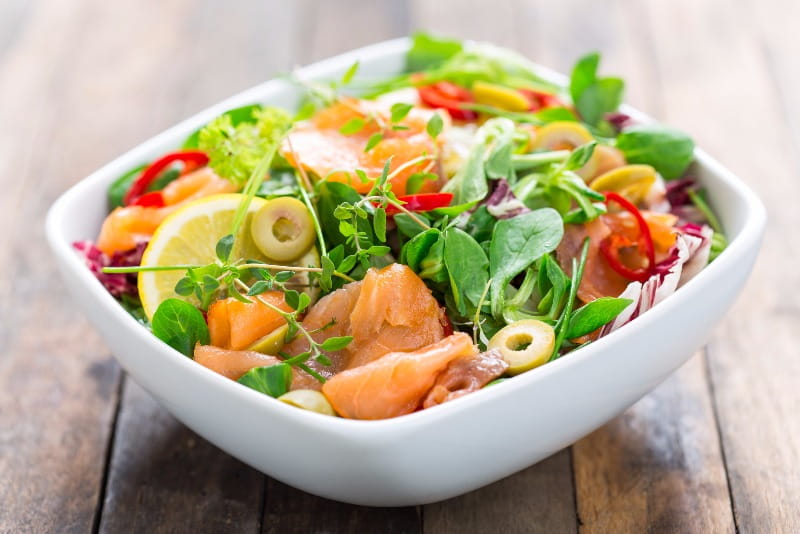 Content from General Links with modal content