Growth in a changing environment
How one local manufacturer regained their footing and bounced back during coronavirus.
*Note: As our communities begin to reopen and rebuild, we're featuring the stories of local businesses.
Slocomb Windows and Doors
is a small, family-owned business that manufactures residential windows and doors. Since 1961, the Hanover Township-based business has weathered its share of storms. But none have been as challenging — or as gratifying to overcome — as the one that struck at the beginning of the coronavirus pandemic.

Change on the horizon
At the onset of the pandemic, the Slocomb staff learned that their business could stay open. Work continued, but at a much slower pace.
"Orders started to fall off dramatically in mid-March," says company president Carl Slocomb. "Because we weren't shipping new products, we struggled to stay afloat."

Working together to get back to normal
As Slocomb staff dealt with challenges, they wondered about the business' future, but with federal assistance, the company survived — and even grew.
To help them get back to normal business operations, Slocomb's leadership applied for the Paycheck Protection Program (PPP), a small business loan to cover payroll expenses. The company also worked with several of its vendors and partners, including
Geisinger Health Plan
, to suspend payments that were due before PPP funds arrived.
"There were daily surprises — the velocity of events and change was unlike anything we have ever experienced," Mr. Slocomb says.

Adjusting to a new environment
The Slocomb team made some changes to keep employees safe and the business running smoothly.
Instead of coming into the office, administrative staff and members of the sales team began to work from home. As an alternative to in-person meetings, sales representatives interacted with customers and prospective customers over the phone or through video chats.
"We initiated a number of weekly Zoom meetings to keep our newly remote staff connected and informed," explains Mr. Slocomb.
Employees who worked in the plant had their workstations reconfigured and equipment moved to allow for safe physical distancing. Before they enter the building, employees have their temperatures checked at the door. They also wear face masks and are encouraged to use hand sanitizer frequently.
Slocomb instituted other innovative safety precautions as well: leaving the facility doors open to reduce the need to touch surfaces, disabling thumbprint-based timeclocks in favor of manual timekeeping, and regularly sanitizing tools and equipment.

Unanticipated growth
Although things seemed uncertain at one time, the company has been surprised by its unexpected growth. Mr. Slocomb notes, "Our largest surprise has been the strength of our incoming orders. Homeowners who are unable to travel due to COVID-19 are spending money to improve their homes."
To keep up with increased demand, the company has plans to hire 20 to 25 additional production associates.
Adds Mr. Slocomb, "We are grateful that we are permitted to operate in the brave new coronavirus world."
As businesses reopen across Pennsylvania, Geisinger's Health and Wellness team is offering tools, information and guidance to help employers keep their staff and patrons safe and healthy. For more information, visit geisinger.org/BusinessResources or call 866-415-7138.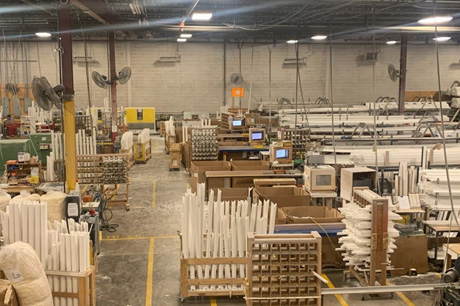 Content from General Links with modal content