When to take your child for their first dental visit
It's never too early to help your child learn good oral hygiene habits.
Before your child has many teeth, you're probably not thinking about dental care. And you might not consider taking them to the dentist just yet. But even if they don't have a single tooth, their first dentist appointment should be on the horizon.
Making the first appointment
So when is the right time to take your child to the dentist for the first time? "When they get their first tooth or by the time they turn 1, whichever comes first," says Kristen Schintz, DMD, medical director for dental services at Geisinger Health Plan.
When you're ready to schedule their first visit, start by finding a dentist that will take them. You don't necessarily need to take them to a pediatric dentist. If your current dental practice sees children, consider scheduling your child at the same place you go for your cleanings.
What to expect
Your child's first visit to the dentist might look a little different than what you're used to.
"The first appointment is usually a 'happy' visit and is helpful to get them used to going to the dentist," says Dr. Schintz. "It focuses on healthy brushing habits and dietary recommendations to lower the risk of tooth decay."
During this appointment, your child can sit on your lap while a hygienist looks in their mouth. And forget about pointy dental instruments — the hygienist will only use a soft toothbrush and a mirror. They'll also:
Examine your child's teeth and gums
Do a simple cleaning
Demonstrate how to brush and floss properly
Suggest nutritional counseling
Offer and apply fluoride
After the hygienist finishes the cleaning, the dentist will take a look and check for cavities or other anomalies.
Healthy habits now mean healthy teeth later
Even if they don't have many teeth, your child starts off on the same dental schedule as you. That means regular checkups every 6 months. To help reduce your child's risk of developing cavities, Dr. Schintz reminds that prevention is key. She offers these tips to help your child achieve their best oral health:
Limit sugary foods and drinks
Drink tap water with fluoride or give a fluoride supplement
Schedule regular dental visits
Help them brush their teeth twice a day
Offer water with meals and snacks
Don't put a baby or toddler to bed with a bottle of milk
By teaching them to take good care of their teeth now, you'll help them build healthy habits as they grow.
Comprehensive dental benefits for your child
If you're looking for affordable dental benefits for your child, CHIP, brought to you by GHP Kids, has you covered. GHP Kids offers a wide range of services for your child(ren), including:
Cleanings
Checkups
X-rays
Fillings
CHIP covers all uninsured Pennsylvania kids. Any uninsured child or teen up to age 19 qualifies. And no family makes too much money. Learn if GHP Kids is right for your family.
Next steps:
Learn about GHP Kids
Learn about pediatric dentistry at Geisinger
Meet Kristen Schintz, DMD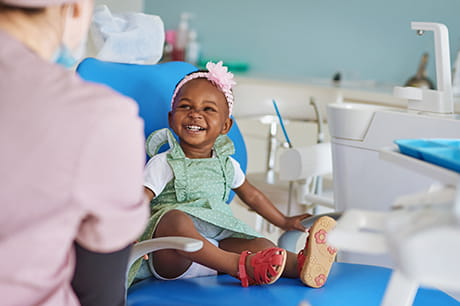 Content from General Links with modal content