6 water safety tips for parents
These simple tips can help you avoid accidents at the beach or pool this summer
You have your hat, sunglasses and snacks, and everyone's finally lathered up with sunscreen. It's time to head to the pool or beach to enjoy a nice summer day.
But before you unleash the kids and let them charge down to the ocean's edge, there are important water safety tips you should keep in mind. They just might save your life or the lives of your loved ones.
The rate of drowning-related deaths peaks during the hottest months of the year and is also higher in the late afternoon – when swimmers are tired and less alert after a long day in the sun.
"An accident around the water can happen in an instant," says Dr. Brooke Dismukes, a pediatrician at Geisinger Lewistown. "You can cut down on the risks and make sure everyone has a great time by making safety a priority."
Tip 1: Enroll in swim lessons
The American Academy of Pediatrics recommends swim lessons for all children, and their parents, to help develop water safety skills.
"Recent studies suggest that water survival skills training and swim lessons can help reduce drowning risk for all children including those one to four years old," says Dr. Dismukes.
Tip 2: Keep an eye on the kids
Any time a child is in the pool, lake or ocean, a responsible adult should be watching. It isn't enough to simply be nearby or within earshot – you should always have your eyes on young swimmers.
"It only takes a second for a child to get into trouble in the water, and you'll only have a few seconds to react and provide assistance," says Dr. Dismukes.
Tip 3: Feet first, first time
Whenever you or your kids are entering a body of water you're unfamiliar with, you should always follow the "feet first, first time" rule. This means that you should jump in or wade in – never dive. Hitting the bottom of the pool or lake can lead to severe head and neck injuries.
"Most head and neck injuries occur from diving in water that's less than four feet deep," says Dr. Dismukes. "If you're not sure about the depth, don't dive."
Tip 4: Good fences make good neighbors
If you have a backyard pool, make sure you have a fence around it to keep trespassers out. In some areas, you may be liable for any injuries that occur at your pool if you haven't made an effort to keep people away.
"Neighborhood kids may 'pool hop' or your neighbor's child may wander onto your property," says Dr. Dismukes. "A fence can help prevent a potential tragedy."
Tip 5: Use your life jackets
If you're on a boat – or an inexperienced swimmer – it's always a good idea to wear a personal flotation device. And you should be wearing it, not holding it. You should also make sure it fits properly and has been recently inspected. Pool noodles and rafts are not reliable in an emergency.
"If you are knocked unconscious or fall overboard while on a boat, the personal flotation device can help you keep your head above water until help arrives," says Dr. Dismukes.
Tip 6: Learn CPR
Knowing how to perform cardiopulmonary resuscitation (CPR) can help save a life during a water-related accident. Check your local American Red Cross, or similar organizations, for CPR classes in your area.
When it comes to water safety, knowledge is power. Keeping yourself, and your little ones, educated on swimming safety can help you avoid most hazards and get back to enjoying the pool or beach this summer.
Next steps:
Find a pediatrician near you
Learn more about pediatric care at Geisinger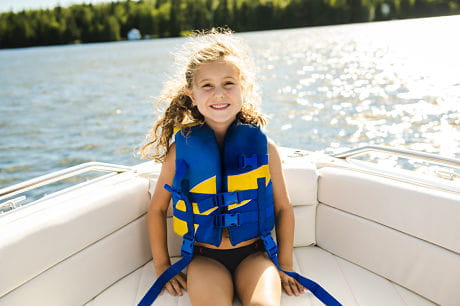 Find a caring pediatrician for your child