7 summer safety tips for parents
Here's how to keep summer vacation fun – and safe – for your kids
School's out for summer, and with that comes plenty of time for your kids to play. But as they say, it's all fun and games 'til someone gets hurt. Breaking a bone, getting a serious cut or concussion can take a lot of fun out of summer break.
"It's easy for kids to get excited about summer break and forget about safety," says Dr. Diana Dutra, pediatrician seeing patients at Geisinger Philipsburg and Gray's Woods. "It's a good idea to spend some time going over safety precautions at the end of the school year to help prevent a trip to the emergency room during the summer."
Here are seven tips to help keep your kids safe this summer.
1.
Don't forget your sunscreen

You don't have to be at the pool or beach to get a sunburn. Our skin needs protection from the sun's harmful rays whenever we're outdoors.

Apply sunscreen (choose one with at least SPF 30 and UVA and UVB protection) every time you and your child head outside. And don't forget to reapply during the day, especially if you're swimming or sweating.

"You can also find shade or wear protective clothing and a hat to guard yourself from the sun," says Dr. Dutra.
2.
Stay hydrated

Summer is a great time to help your child develop good hydration habits. "When you're sweating, there's a higher risk for dehydration," says Dr. Dutra.

Kids should have water breaks every 20 minutes while playing outdoors. Bring a water bottle or a cooler filled with (healthy) drinks to help keep them hydrated.
3.
Be careful at the playground

"Each year, we see a number of broken bones and sprains from children who fall off playground equipment or use equipment that's not suited for them," says Dr. Dutra.

Children should always play on age-appropriate equipment and be supervised by adults while at the playground to help prevent breaks, sprains, scrapes and bruises. They should also wear closed-toe shoes and clothing free of strings or extra fabric that could get caught in equipment.

Before your kids run off to swing or hang on the monkey bars, look for loose ropes, cords or chains and remove them from the playground—they can lead to serious or fatal injuries.
4.
Protect that noggin – wear a helmet!

No matter how confident you and your child feel on a piece of wheeled equipment, such as a bike, scooter, rollerblades or skateboard, you should wear protective gear to guard against injury.

Rollerbladers, skaters and bikers should always wear helmets. And be sure to buy a new helmet—one that's used may be weaker and provide less head protection.

You should also wear wrist guards and knee and elbow pads for extra protection.
5.
Look both ways and stay on the sidewalk

Summer is the perfect time to encourage your kids to put down the smartphones and tablets and go outside to play.

Whether they're heading out to play a friendly game of basketball in the driveway or playing tag with the neighbors, they should always look both ways before crossing a street and avoid playing in the street – no matter how "quiet" it is.

Many children, especially young ones, don't realize they could get seriously injured by playing in the driveway near a car. Parents should also take a few minutes to look around the car before getting in it to go somewhere.
6.
Check for ticks

Most tick bites don't require medical attention, but you should always check your family for ticks (including your pets) and remove them as soon as possible.

If you spot a tick, use a pair of tweezers to grasp the head of the tick as close to the skin as possible, while avoiding compression of the body, and pull it out firmly. Once you remove the tick, be sure to wash and swab the bite site with alcohol.
7.
Be ready for cuts – and know how to spot a broken bone

No matter how many precautions you take, your kids will likely experience a cut, bruise or fall. If your child does get hurt playing outside this summer, keep these first aid tips in mind:
First, apply pressure to cuts to stop the bleeding; if a cut doesn't stop bleeding within ten minutes, is deep or has jagged edges, you should seek medical attention right away.
Clean scrapes and minor cuts thoroughly with cool running water or a wound wash. Use a washcloth with soap to clean around the cut or scrape but avoid getting soap in the cut because it could cause irritation.
Cover the cut or scrape with a bandage.
It's also important to know how to spot a broken bone. Common symptoms include pain, swelling, bruising and numbness. Your child might also have a bump or deformity where the bone is broken. And in the case of a broken arm or leg, your child may not be able to straighten their limb, walk or lift things.
"If you think your child has a broken bone, call your doctor or go to the emergency room immediately to get an X-ray. It's better to be safe than sorry," says Dr. Dutra.


Next steps:
Find a Geisinger pediatrician near you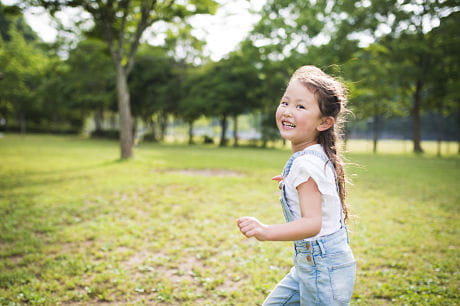 Content from General Links with modal content