Avoid a #CruelSummer with safety tips and a little common sense
Follow our #CruelSummer series and stay safe during the season's 100 deadliest days
Today is the first day of summer, which means people are downshifting to a more relaxed mode, enjoying the outdoors and taking vacations. Summertime is generally a time for fun, but relaxing the rules can sometimes lead to accidents and mishaps.

"Summer season means fun for everyone, but unfortunately it's also trauma season—we see plenty of broken bones, sprains, concussions, pool-related injuries and accidents from all sorts of outdoor activities," said David Schoenwetter, DO, Director, Division of Emergency Medical Services, Geisinger Health. "A lot of injury prevention really is common sense, but you should still review summer safety tips with your kids so your summer doesn't end early because someone gets hurt."
This summer, we're taking a look at some of the ways you can turn a nice, relaxing vacation into a serious bummer. Some of the topics we're covering include:
• How not to wreck your ATV or dirt bike: Riding through the woods with your ATV or dirt bike can be thrilling, but it's important to remember these vehicles aren't toys. Inspecting your ATV or dirt bike, choosing the right gear to wear, supervising kids, riding in safe places and other tips can be the difference between an exhilarating ride on the trails with your four-wheeler and a terrifying one in an ambulance.
• Don't turn your back to the ocean, and don't swallow that water: Unless swimming is done in the pool at the gym, most of us don't get to swim year-round. This is why it's essential to review swimming safety with your family before you head to the beach or your own pool this summer. In addition to swimming safety, dangers lurk in pool and ocean water that can cause less-than-pleasant side effects if accidentally ingested.
• Safety in the great outdoors: Camping can make you feel like you're a world away from the city. In this unfamiliar world it's important to be aware of dangers—whether they're creepy crawly insects, hungry bears eager to get into your coolers or a little uncooked food or dirty water. Explore some camping safety tips before you leave the house so you can explore nature around you.
• Don't lose a toe or start a fire while mowing the lawn: If you're staying closer to home this summer, you might get the kids involved in pruning bushes, mowing the lawn and weeding the yard. These are chores that'll keep your kids active, but one rookie mistake with a lawnmower, weed whacker or some hedge trimmers could spell disaster. Surprisingly, lawn mower accidents send 80,000 people to the ER each year.
• How not to get a concussion while skateboarding: The last thing you want to do is discourage your kids from getting exercise outside. But there's a right way and a wrong way to enjoy the playground, learn to ride a bike, skateboard, rollerblade or ride a scooter. A helmet is a must on any wheeled toy, and playground safety calls for some smarts like age-appropriate equipment and not jumping off those swings.
"Even after taking precautions, accidents still happen, which is why it's also important to communicate where you'll be if you're rollerblading or going for a long bike ride and that you've got a first aid kit with you at your campsite," said Dr. Schoenwetter.
David Schoenwetter, DO, is the Director, Division of Emergency Medical Services, Geisinger Health. For more information, visit Geisinger.org.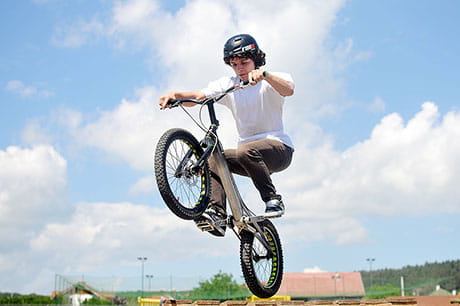 Content from General Links with modal content