Ingredients
For the toast:
2 large eggs
2½ cups unsweetened almond milk
¼ cup honey
1½ teaspoons vanilla extract
½ teaspoon ground cinnamon
8 slices stale whole wheat bread
For the filling:
3 overripe, mashed bananas
1 teaspoon lemon juice
½ cup toasted chopped pecans
2 teaspoons ground cinnamon
¼ teaspoon ground allspice
¼ teaspoon ground ginger
Directions
Heat oven to 350° F.
If your bread isn't stale, dry it out in the oven for about 10 to 20 minutes. If it's not completely dry, the dish will be soggy.
Whisk together the eggs, almond milk, honey, vanilla extract and cinnamon.
In a separate bowl, combine the filling ingredients.
Spray a baking pan with cooking spray. Dip four bread slices into the egg mixture, giving them time to absorb as much liquid as possible, and place them in the bottom of the pan.
Spread the filling mixture over the bread.
Dip the remaining bread slices and use them to top the filling.
Bake for 30 to 45 minutes until the casserole is golden brown.
Makes 8 servings, 200 calories each.
Adapted from culinarymedicine.org.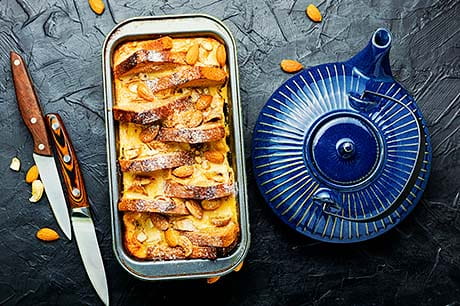 ---
The wellness you need, in a style you'll love — delivered.
Sign up to have PA Health sent to your mailbox or inbox 4 times a year, for free.