Recipe: Cool treats when the heat's on
Ready to chill on a scorching hot day?
Grab a few simple ingredients, whip up these icy treats and find a spot in the shade. These snacks will cool you down and satisfy your sweet tooth — in a healthy way.

Tropical popsicles
Ingredients
1 cup low-fat vanilla yogurt
½ cup chopped mango (fresh or frozen)
½ cup chopped pineapple pieces (fresh, canned or frozen)
¼ cup coconut water
1 ice cube tray or paper cups
Popsicle sticks
Directions
Place all ingredients into blender and blend until smooth.
Pour into ice cube trays or cups, add popsicle sticks and freeze.
---
Frozen chocolate and peanut butter bars
Ingredients
2 packages sugar-free instant chocolate pudding
3½ cups skim milk
¼ cup peanut butter
Graham crackers
Directions
Combine pudding mixture and milk.
Beat in peanut butter.
Line a 9"×13" pan with graham cracker squares.
Spread pudding mixture over crackers. Top with another layer of crackers.
Freeze for four hours.
Cut into squares.
---
Chilled berries with banana cream
Ingredients
½ cup low-fat, plain yogurt
½ banana
2 tablespoons orange juice
2 cups fresh strawberries, chilled
1 teaspoon honey
1 teaspoon cinnamon
Directions
Combine yogurt, banana and juice and mash with a fork until nearly smooth.
Wash and slice strawberries.
Top berries with yogurt banana mixture.
Top with honey and cinnamon.
All recipes adapted from myplate.gov.
---
This story originally appeared in PA Health, our quarterly full-color magazine filled with wellness tips, inspiring stories and more.
Sign up to have PA Health sent to your mailbox or inbox 4 times a year, for free.
The wellness you need, in a style you'll love — delivered.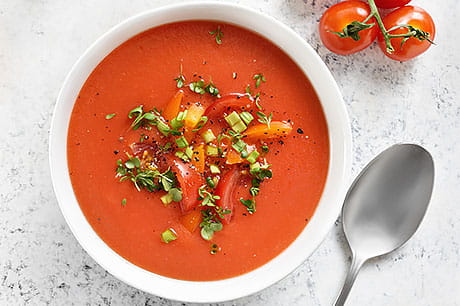 Craving something cold — and savory — that makes the most of fresh, local produce? Our farmers market gazpacho is the perfect summer meal.