Recipe: Slow cooker pork and pumpkin stew
Looking for a low-maintenance meal, perfect for Sunday afternoon or a busy weeknight? Try this flavorful pork and pumpkin stew.
This hearty stew is loaded with flavor and nutrition. The main ingredient, pumpkin, is a nutritional powerhouse. It's loaded with vitamins and minerals, including copper, iron, manganese, potassium, beta carotene and vitamins, A, B, C and E. Pumpkin can also help protect your heart, eyesight and bones. Can't find fresh? Substitute canned whole pumpkin instead.
Makes 8 1-cup servings.
Ingredients
16 ounces pork shoulder (trimmed of all visible fat, cut into 1-inch cubes)
½ teaspoon black pepper
1 teaspoon salt-free, all-purpose seasoning
1 tablespoon olive oil
2 tablespoon tomato paste
1 cup low-sodium beef broth
¼ teaspoon ground cinnamon
1 peeled, diced onion
4 diced celery stalks
3 peeled, diced carrots
1 small peeled, seeded and diced sugar/pie pumpkin
4 cloves minced garlic
4 sprigs fresh thyme
1 bay leaf
1 14.5-ounce can drained, rinsed black beans
Directions
Season the cubed pork with the pepper and salt-free seasoning.
Add the oil to a large pan over high heat and brown the pork, cooking for about 8 minutes.
Remove the meat from the pan and set aside. Add the tomato paste, beef broth and cinnamon to the pan and whisk. Remove the pan from the heat.
Add the browned meat, liquid and remaining ingredients to the slow cooker and stir to combine.
Cook on high for 4 hours (or low for 8 hours). Stir in the beans and cook for 20 minutes more. Remove the bay leaf before serving.
Recipe adapted from diabetesfoodhub.org

Nutrition per serving: 150 calories, 5g fat, 30mg cholesterol, 170mg sodium, 15g carbohydrates, 5g fiber, 4g total sugars, 14g protein.
Next steps:
Looking for more? Explore our dietitian-approved recipes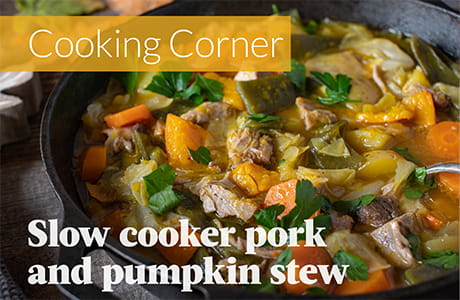 Content from General Links with modal content