Along with making tasty slices, this simple, no-knead bread makes a great bowl for soups and chilis. Your guests will be impressed!
Makes 2 loaves (about 20 servings).
Ingredients
4 cups unbleached all-purpose or bread flour
2 teaspoons kosher salt
2 cups lukewarm water
2 teaspoons sugar
2 teaspoons instant yeast (or 1 full packet)
Room temperature butter, about 2 tablespoons
Directions
In a large mixing bowl, whisk together the flour, salt, sugar and yeast. Add the water. Mix until the flour is absorbed.
Cover bowl with a tea towel or plastic wrap and set in a warm spot to rise for at least an hour.
Preheat the oven to 425º. Grease two 1- or 1.5-quart oven-safe bowls with about a tablespoon of butter each. Using two forks, punch down your dough, scraping it from the sides of the bowl.
Divide the dough into two equal portions and place into prepared bowls. The dough will be very wet.
Let the dough rise again for about 20 to 30 minutes near a warm spot.
Bake for 15 minutes at 425º. Reduce the heat to 375º and bake for 15 to 17 minutes longer. Remove from the oven and turn the loaves onto cooling racks. If the loaves look pale and soft, bake for about 5 minutes longer outside of bowls. Remove from oven and let cool for 10 minutes before cutting.
Recipe adapted from kingarthurbaking.com
Nutrition per serving: 90 calories, 0g fat, 0mg cholesterol, 176mg sodium, 19g carbohydrates, 0g sugars, 3g protein.
Next steps:
Looking for more? Explore our dietitian-approved recipes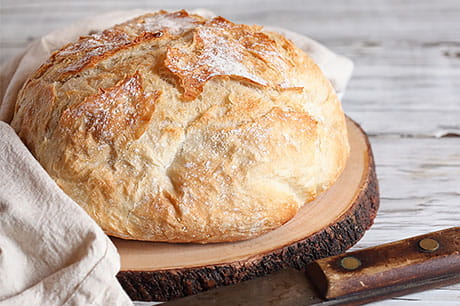 Content from General Links with modal content