Dear non-maskers: An open letter from a person with CF
Since being diagnosed with cystic fibrosis at 2 weeks old, 20-year-old Kaitlyn has been fighting to stay healthy. Read her plea to think beyond yourself and please wear a face mask
My name is Kaitlyn Hentschel. I'm a junior at Bloomsburg University, where I major in organizational communication (with a minor in emergent media) in hopes of working for the same organization that has supported me for many years — the Children's Miracle Network at Geisinger Janet Weis Children's Hospital in Danville, PA.
To most, I look like a normal 20-year-old, but what people can't see is that my body is constantly fighting. I'm constantly fighting.
You see, I was diagnosed with cystic fibrosis (CF) when I just 2 weeks old. Then cystic fibrosis-related diabetes at age 13. Since the moment I was born, I have fought hard to be healthy. I've endured many surgeries, hospital stays and doctor's appointments, been on many medications and have done more breathing treatments than I can count.
But I've also lived a semi-normal life. I attended school from kindergarten through 12th grade. I've made many friends, played sports, went to prom and worked several jobs. All thanks to the extra steps I've taken to manage my "invisible condition."
For as long as I can remember, I've needed to wear a face mask when spending time in any place that might have a lot of germs — these places put me, and others like me, at high risk. In fact, something as simple as a common cold can land me in the hospital for 2 weeks or longer.
The flu is even worse. The flu could cause my lung function to plummet, and it's extremely hard to regain. This can result in lung transplants for people like me.
Now we're faced with the global coronavirus pandemic, with recommendations for everyone to wear face masks in public to help stop the spread of COVID-19. And I'm furious that people choose not to.
Why? Because for certain people, like me, who have chronic illnesses, it's a matter of life or death.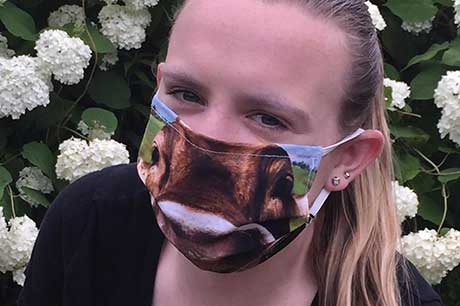 Just like you, people who have a chronic illness don't want to stop living their lives completely. I don't want to lock myself inside my house for the foreseeable future.
This is why everyone needs to wear a mask when going out in public. If not for yourself, for those you come into contact with on a daily basis. Your friends, your neighbors and people like me, fighting to be healthy.
I get it. Face masks can be uncomfortable. They can be harder to breathe in. They can make your face hot. But it's also uncomfortable and hard to breathe in the hospital — intubated and hooked up to machines breathing for you.
So, if you're not wearing a face mask, please think again.
There's scientific evidence that supports the use of face masks to help prevent the spread of illnesses, like COVID-19. By wearing a mask, you're blocking the germs that come out of your mouth and nose when you talk, laugh, cough, sneeze and breathe.
They protect everyone around you from sickness. A face mask could even make the difference between me going home to my family or me being hooked up to machines in the ICU.
That's why I ask you to please, please wear a face mask during this time — and make sure it's covering your nose and mouth. Find a mask that's comfortable to you, find one with designs that express your personality and interests, but most importantly, do it to keep others safe.
If we all work together, we can stop the spread of COVID-19.
– Kaitlyn
Next steps:
Face masks: Learn your options
Learn more about cloth face coverings