Gift to Geisinger Commonwealth benefits Clinton County medical students
Well-known Lock Haven philanthropists, Stephen and Pamela Poorman of Lock Haven, have made a significant investment in the future well-being of their community by establishing a scholarship at Geisinger Commonwealth School of Medicine (Geisinger Commonwealth). An entrepreneur and businessman, Mr. Poorman said he and his wife created the "Stephen and Pamela Poorman Physician Annual Scholarship in Honor of Dr. Randle H. Storm and Dr. Sanjay Doddaman" in appreciation of the "excellent care" he received at Geisinger Medical Center after suffering numerous health problems. The scholarship will benefit medical students who either reside in Clinton County or have graduated from Lock Haven University.
"My family and employees were covered under the Geisinger Health Plan for 25 years and Geisinger was always there. From suffering a heart attack to cancer and a stroke, I've spent months in the Geisinger Medical Center in Danville. This stay gave me a firsthand experience of the professional and effective treatment delivered during my recovery. Geisinger physicians saved my life. In appreciation for this exceptional care, we made our contribution in recognition of Dr. Storm and Dr. Doddamani. Hopefully future students will maintain the Geisinger commitment to excellence, dedication and patient care exhibited by these men."
The inaugural Stephen and Pamela Poorman Physician Annual Scholarship has been awarded to Alexa Mills, a member of Geisinger Commonwealth's Class of 2021. "As a person deeply rooted in Clinton County, it is certainly an honor to not only have been awarded the first Poorman scholarship, but to represent both my hometown and Lock Haven University as a physician in training here at Geisinger Commonwealth. Many of my mentors and role models are part of the Geisinger community and, like Mr. Poorman, I have received years of outstanding care from Geisinger providers. As a physician, I will absolutely reflect the values upheld by Geisinger, and I am very excited to receive my medical training under a renowned healthcare system that is so embedded in the community.
Ms. Mills is a native of Renovo, Clinton County and is a 2016 graduate of Lock Haven University.
About Geisinger Commonwealth School of Medicine
Geisinger Commonwealth School of Medicine (Geisinger Commonwealth) is a member of the Geisinger family. Geisinger Commonwealth offers a community-based model of medical education with campuses in Danville, Doylestown, Scranton, Sayre and Wilkes-Barre. Geisinger Commonwealth offers Doctor of Medicine (MD) and Master of Biomedical Sciences (MBS) degrees. The school's innovative curriculum, focused on caring for people in the context of their lives and their community, attracts the next generation of physicians and scientists from within its region in northeastern and central Pennsylvania, as well as from across the state and the nation. The school also has over 440 graduate medical students in 24 residency programs and 19 accredited fellowships. Geisinger Commonwealth is committed to non-discrimination in all employment and educational opportunities. For more information, visit www.geisinger.edu/gcsom, or connect with us on

Facebook

,

Instagram

,

LinkedIn

and

Twitter

.
About Geisinger
One of the nation's most innovative health services organizations, Geisinger serves more than 1.5 million patients in Pennsylvania and New Jersey. The system includes 13 hospital campuses, a nearly 600,000-member health plan, two research centers and the Geisinger Commonwealth School of Medicine. Geisinger is known for its focus on caring and innovative programs including the ProvenCare® best-practice approach to maximize quality, safety and value; ProvenHealth Navigator® advanced medical home; Springboard Health® population health program to improve the health of an entire community; ProvenExperience™ to provide refunds to patients unhappy with their care experience; and Geisinger's MyCode® Community Health Initiative, the largest healthcare system-based precision health project in the world. With more than 215,000 volunteer participants enrolled, MyCode is conducting extensive research and returning medically actionable results to participants. A physician-led organization, with approximately 32,000 employees and more than 1,800 employed physicians, Geisinger leverages an estimated $12.7 billion positive annual impact on the Pennsylvania and New Jersey economies. Repeatedly recognized nationally for integration, quality and service, Geisinger has a long-standing commitment to patient care, medical education, research and community service. For more information, visit www.geisinger.org, or connect with us on Facebook, Instagram, LinkedIn and Twitter.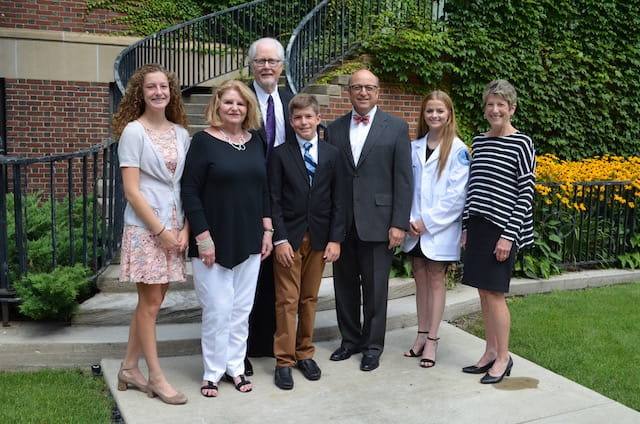 For GCSOM media inquiries
Elizabeth Zygmunt
Director of Media and Public Relations
Geisinger Commonwealth School of Medicine
Office: 570-504-9687
On call: 570-687-9703
ezygmunt@som.geisinger.edu