Symposium on metastatic breast cancer brought first of its kind knowledge and support to area patients, health providers
Susan G. Komen NEPA and Geisinger Commonwealth School of Medicine together brought information and awareness to local patients facing a metastatic breast cancer (MBC) diagnosis and to the healthcare providers who care for them. According to organizers of the April 29 event — including two local women coping with MBC — people with stage IV breast cancer are an often-overlooked patient group. People diagnosed with MBC have specific needs typically not addressed by the many events geared toward an early-stage diagnosis, where the emphasis is placed upon overcoming the disease.

Living Well with Breast Cancer and Beyond provided patients diagnosed with stage IV (metastatic) breast cancer (MBC) information on current research and clinical trials with lectures by several nationally known researchers, including two Komen scholars. Komen Scholars are a group of 60 distinguished scholars and leaders in breast cancer research and advocacy. The scholars who attended the symposium were Adrian Lee, PhD, from the University of Pittsburgh Cancer Institute and David A. Mankoff, MD, PhD from the Perelman School of Medicine at the University of Pennsylvania. One goal of Dr. Lee's lab is to identify novel changes in metastatic cells that may offer therapeutic insight. He will discuss the present gaps in MBC research. Dr. Mankoff's research focuses on new imaging techniques that he believes have the ability to improve progression-free survival and quality of life.

Other speakers included Michael Murray, MD and Craig Piso, PhD. Dr. Murray is director of Geisinger's clinical genomics and the MyCode data project. He discussed how genomics is changing the detection and treatment of cancer. Dr. Piso is a psychologist whose presentation was entitled, "Finding Courage and Strength During Life's Biggest Challenges."

The symposium was well attended and, based upon attendee feedback, Geisinger Commonwealth and Susan G. Komen NEPA plan to present the symposium again in 2018.
About Geisinger Commonwealth School of Medicine
Geisinger Commonwealth School of Medicine (Geisinger Commonwealth) is a member of the Geisinger family. Geisinger Commonwealth offers a community-based model of medical education with campuses in Danville, Doylestown, Scranton, Sayre and Wilkes-Barre. Geisinger Commonwealth offers Doctor of Medicine (MD) and Master of Biomedical Sciences (MBS) degrees. The school's innovative curriculum, focused on caring for people in the context of their lives and their community, attracts the next generation of physicians and scientists from within its region in northeastern and central Pennsylvania, as well as from across the state and the nation. The school also has over 440 graduate medical students in 24 residency programs and 19 accredited fellowships. Geisinger Commonwealth is committed to non-discrimination in all employment and educational opportunities. For more information, visit

www.geisinger.edu/gcsom

, or connect with us on

Facebook

,

Instagram

,

LinkedIn

and

Twitter

.
About Geisinger
One of the nation's most innovative health services organizations, Geisinger serves more than 1.5 million patients in Pennsylvania and New Jersey. The system includes 13 hospital campuses, a nearly 600,000-member health plan, two research centers and the Geisinger Commonwealth School of Medicine. Geisinger is known for its focus on caring and innovative programs including the ProvenCare® best-practice approach to maximize quality, safety and value; ProvenHealth Navigator® advanced medical home; Springboard Health® population health program to improve the health of an entire community; ProvenExperience™ to provide refunds to patients unhappy with their care experience; and Geisinger's MyCode® Community Health Initiative, the largest healthcare system-based precision health project in the world. With more than 215,000 volunteer participants enrolled, MyCode is conducting extensive research and returning medically actionable results to participants. A physician-led organization, with approximately 32,000 employees and more than 1,800 employed physicians, Geisinger leverages an estimated $12.7 billion positive annual impact on the Pennsylvania and New Jersey economies. Repeatedly recognized nationally for integration, quality and service, Geisinger has a long-standing commitment to patient care, medical education, research and community service. For more information, visit www.geisinger.org, or connect with us on Facebook, Instagram, LinkedIn and Twitter.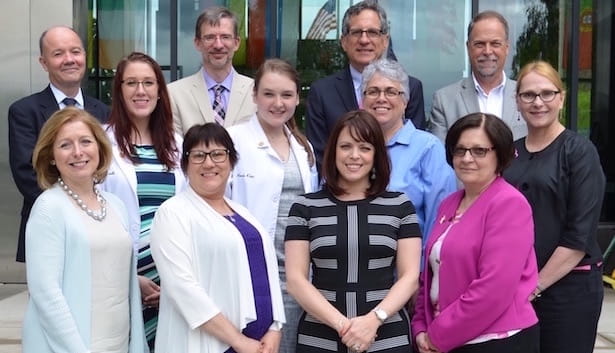 For GCSOM media inquiries
Elizabeth Zygmunt
Director of Media and Public Relations
Geisinger Commonwealth School of Medicine
Office: 570-504-9687
On call: 570-687-9703
ezygmunt@som.geisinger.edu