Geisinger Commonwealth School of Medicine MD Class of 2018 celebrates successful Match Day
97 medical students at Geisinger Commonwealth learn their residency placements
Today Friday, March 16, 97 students at Geisinger Commonwealth School of Medicine (Geisinger Commonwealth) in the largest graduating class in the school's history, learned their residency placements during the National Resident Matching Program's "Match Day," an event at which all fourth-year MD students around the country simultaneously open their envelopes to learn where they will spend the next three to seven years training in specialties. Residencies typically begin July 1.
"We are proud of the success of our Class of 2018," said Steven J. Scheinman, MD, president and dean of Geisinger Commonwealth and executive vice president, Geisinger. "Again this year, our students matched into excellent local residency programs, as well as some of the most competitive and prestigious programs and specialties in the nation. I am also glad that, once again, our students chose primary care in large numbers," Dr. Scheinman said, pointing out that half of Geisinger Commonwealth's Class of 2018 matched into a primary care specialty – family medicine, internal medicine, pediatrics or obstetrics/gynecology.
Dr. Scheinman noted that 35 members of the Class of 2018 matched into a Pennsylvania-based program, including 13 local students. Moreover, four Geisinger Commonwealth students will train at a Geisinger residency program. "Matching into a Pennsylvania-based residency is an encouraging indicator, because physicians tend to end up practicing in areas close to where they trained," Dr. Scheinman said, adding that Pennsylvania-based residencies comprised more than one-third of Geisinger Commonwealth's total match. The fact that seven students matched into residencies in northeastern Pennsylvania is an even more promising indicator."
Dr. Scheinman also observed that Geisinger Commonwealth applicants matched into some of the most competitive specialties in American medicine, including dermatology, radiation oncology, plastic surgery, urology, ophthalmology and orthopedic surgery. In addition to the large number of Geisinger Commonwealth students who will train at leading community-based programs, several students will go to residencies at highly competitive teaching hospitals, including those associated with Dartmouth, New York University, the University of Rochester, UCLA and the University of Chicago, as well programs at Jefferson, Temple and Drexel.
According to the National Resident Matching Program, the 2018 Match was the largest in history, with 37,103 total registrants competing for 33,167 positions. Among them were 18,818 fourth-year MD students who submitted their program preference lists, including the 97 from Geisinger Commonwealth.
View the Match list for Geisinger Commonwealth's MD Class of 2018.
Geisinger Commonwealth Match Day by the numbers
2018 specialty/no. matched
Anesthesiology: 4
Dermatology: 1
Diagnostic radiology: 4
Emergency medicine: 10
Family medicine: 9
General surgery: 2
Internal medicine: 22
Medicine pediatrics: 2
Medicine primary: 1
Neurology: 4
Obstetrics: 5
Orthopedic surgery: 4
Ophthalmology: 3
Pathology: 2
Pediatrics: 10
Physical & mental rehabilitation: 2
Plastic surgery: 1
Preliminary surgery: 1
Psychiatry: 4
Radiation oncology: 1
Radiology: 1
Transitional year: 1
Urology: 3
Total: 97

34 local students
Bradford: 4
Carbon: 1
Lackawanna: 8
Luzerne: 14
Monroe: 1
Montour: 1
Pike: 1
Schuylkill: 1
Susquehanna: 1
Wayne: 2
Total: 34
About Geisinger
Geisinger is committed to making better health easier for the more than 1 million people it serves. Founded more than 100 years ago by Abigail Geisinger, the system now includes 10 hospital campuses, a health plan with more than half a million members, a research institute and the Geisinger College of Health Sciences, which includes schools of medicine, nursing and graduate education. With more than 25,000 employees and 1,700+ employed physicians, Geisinger boosts its hometown economies in Pennsylvania by billions of dollars annually. Learn more at geisinger.org or connect with us on Facebook, Instagram, LinkedIn and Twitter.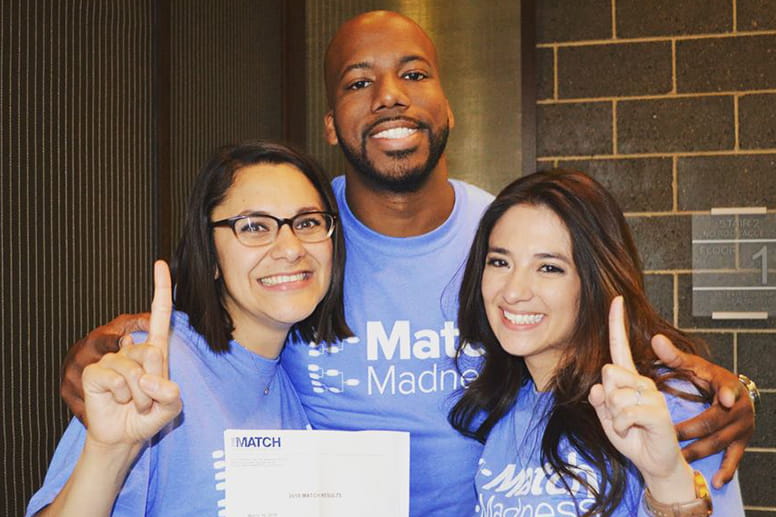 For education media inquiries
Elizabeth Zygmunt
Marketing and Communications Strategist for Education
Office: 570-504-9687
On call: 570-687-9703
emzygmunt1@geisinger.edu