Geisinger Commonwealth medical student receives AOA fellowship
Adit Singhal of Ashburn, a member of Geisinger Commonwealth School of Medicine's MD Class of 2020, received an Alpha Omega Alpha (AOA) Carolyn L. Kuckein Research Fellowship.
After a highly competitive application process, about 50 awards are made annually "to foster the development of the next generation of medical researchers." AOA is the national medical honor society.
Singhal's winning proposal is entitled, "Mapping Glucocorticoid Receptor Variants with Clinical Outcomes of Breast Cancer Patients in the Geisinger MyCode Electronic Health Record-linked Biobank."
"It's a project looking at glucocorticoid receptor variants across breast-cancer subtypes to see if certain variants may correlate with earlier or worse prognosis," Singhal said. "We hope the findings will ultimately guide personalized treatment plans – the essence of precision medicine."
As part of the award, Singhal will present his research findings at AOA's national conference in 2019. "Our school is still relatively young," Singhal said. "But I believe awards like this and the many other thoughtful basic and clinical science research projects in which my peers are engaged is a testament to how strongly GCSOM encourages and nurtures students in the basic research process of asking and answering questions."
According to AOA, the fellowships are extremely competitive and are meant to provide support for clinical investigation, basic laboratory research, epidemiology, social science/health services research, leadership or professionalism. Funds from the fellowship are expected to be the major source of support for the student. Only one candidate from each school may be nominated. A student may only receive one fellowship during medical school. The fellowship program honors Carolyn L. Kuckein, long-time administrator of AOA and an honorary member of the society, who died in 2004.
About Geisinger Commonwealth School of Medicine
Geisinger Commonwealth School of Medicine (Geisinger Commonwealth) is a member of the Geisinger family. Geisinger Commonwealth offers a community-based model of medical education with campuses in Atlantic City, Danville, Doylestown, Sayre, Scranton and Wilkes-Barre. Geisinger Commonwealth offers Doctor of Medicine (MD), Master of Biomedical Sciences (MBS) and Professional Science Master's (PSM) degrees. The school's innovative curriculum, focused on caring for people in the context of their lives and their community, attracts the next generation of physicians and scientists from within its region, as well as from across the nation. The school also has more than 500 residents and fellows in 31 accredited residency programs and 27 accredited fellowships. Geisinger Commonwealth is committed to non-discrimination in all employment and educational opportunities. For more information, visit www.geisinger.edu/gcsom, or connect with us on Facebook, Instagram, LinkedIn and Twitter.
About Geisinger
Geisinger is committed to making better health easier for the more than 1 million people it serves. Founded more than 100 years ago by Abigail Geisinger, the system now includes 10 hospital campuses, a health plan with more than half a million members, a Research Institute and the Geisinger Commonwealth School of Medicine. With nearly 24,000 employees and more than 1,700 employed physicians, Geisinger boosts its hometown economies in Pennsylvania by billions of dollars annually. Learn more at Facebook, Instagram, LinkedIn and Twitter.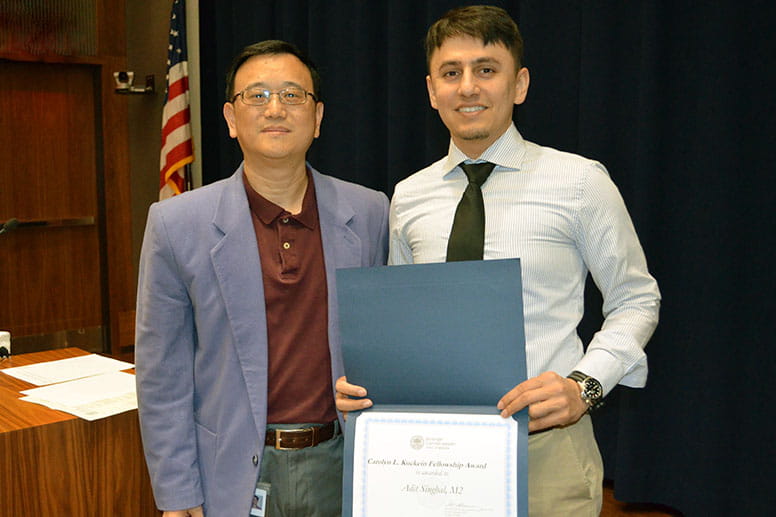 For GCSOM media inquiries
Elizabeth Zygmunt
Director of Media and Public Relations
Geisinger Commonwealth School of Medicine
Office: 570-504-9687
On call: 570-687-9703
ezygmunt@som.geisinger.edu