People's Security Bank supports Geisinger Commonwealth's REACH-HEI program
Geisinger Commonwealth School of Medicine (GCSOM) received a $10,000 gift from People's Security Bank through Pennsylvania's Educational Improvement Tax Credit (EITC) program.
The gift from People's Security will be used to support Geisinger Commonwealth's successful REACH-HEI (Regional Education Academy for Careers in Health-Higher Education Initiative) program, an out-of-school program that successfully provides academic enrichment opportunities to low-income and first-generation-to-college students in northeastern Pennsylvania. The program is designed to motivate students to pursue health-related professions. REACH-HEI has a proven track record of success, with hundreds of its program participants currently in colleges and universities. Several REACH-HEI alumni are even in medical school, including GCSOM.
"I am grateful to People's Security Bank for supporting the students of REACH-HEI," said Ida L. Castro, J.D., vice president of community engagement and chief diversity officer at Geisinger Commonwealth. "REACH-HEI not only helps deserving young people to achieve their full potential, it also expands the pool of qualified healthcare professionals in our region."
"We are delighted to be able to assist programs like REACH-HEI. We are committed to helping local students succeed and keep their talents here in our own region," said Craig Best, president and CEO of People's Security. "We know our gift is well placed at Geisinger Commonwealth."
About Geisinger
Geisinger is committed to making better health easier for the more than 1 million people it serves. Founded more than 100 years ago by Abigail Geisinger, the system now includes 10 hospital campuses, a health plan with more than half a million members, a research institute and the Geisinger College of Health Sciences, which includes schools of medicine, nursing and graduate education. With more than 25,000 employees and 1,700+ employed physicians, Geisinger boosts its hometown economies in Pennsylvania by billions of dollars annually. Learn more at geisinger.org or connect with us on Facebook, Instagram, LinkedIn and Twitter.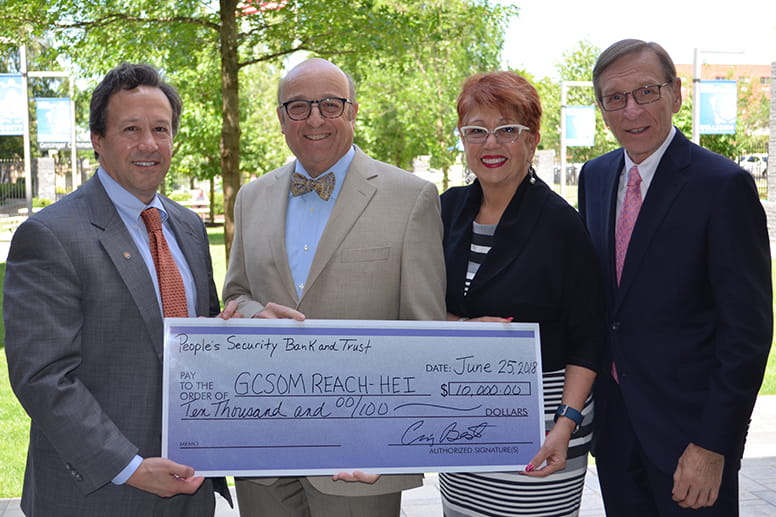 For education media inquiries
Elizabeth Zygmunt
Marketing and Communications Strategist for Education
Office: 570-504-9687
On call: 570-687-9703
emzygmunt1@geisinger.edu