COVID-19: What does "flattening the curve" mean?
As cases of the new coronavirus (COVID-19) continue to pop up across the United States, you've probably heard phrases like "flattening the curve" and "social distancing." But what do they mean?
Lately, many Americans' lives have been drastically disrupted by unprecedented cancellations and closings. Across the country, businesses are closing, employers are sending employees home, events are being cancelled and schools and universities are closing.
While the cancellations and closings might seem extreme, it's all part of "flattening the curve," or slowing down the spread of a virus to prevent a spike in people getting sick, which has potential to overwhelm our hospitals and healthcare workers.
Dr. Stanley Martin, system director of infectious diseases at Geisinger, helps us understand what "flattening the curve" means and why staying home now can potentially save lives.
What is "flattening the curve"?
Even if you are young, healthy and feel well, you might already have contracted COVID-19 — and with that comes the possibility of spreading it to others.
"Flattening the curve involves taking preventive measures to delay and slow down the spread of COVID-19, so we have fewer people seeking medical care at any one time," explains Dr. Martin. "Deliberately increasing physical space between people allows time for those who are sick to recover before more infections begin developing."
Slowing the spread of COVID-19 is critical right now. If no preventive measures are taken, there may be a huge spike of patients needing care at the same time, which would overwhelm our local and national healthcare systems.
If this happens, those who are the most critically ill may not get the care they need. And healthcare workers, and resources, would be burnt out quickly.
"If we each do our part to slow the spread of COVID-19, through things like practicing social distancing and other preventive measures, the same amount of people may still get infected, but we can help reduce the number of people who become sick at the same time," says Dr. Martin. "This gives our healthcare systems a chance to keep up with infections and provide the care that those who need it most need to get better."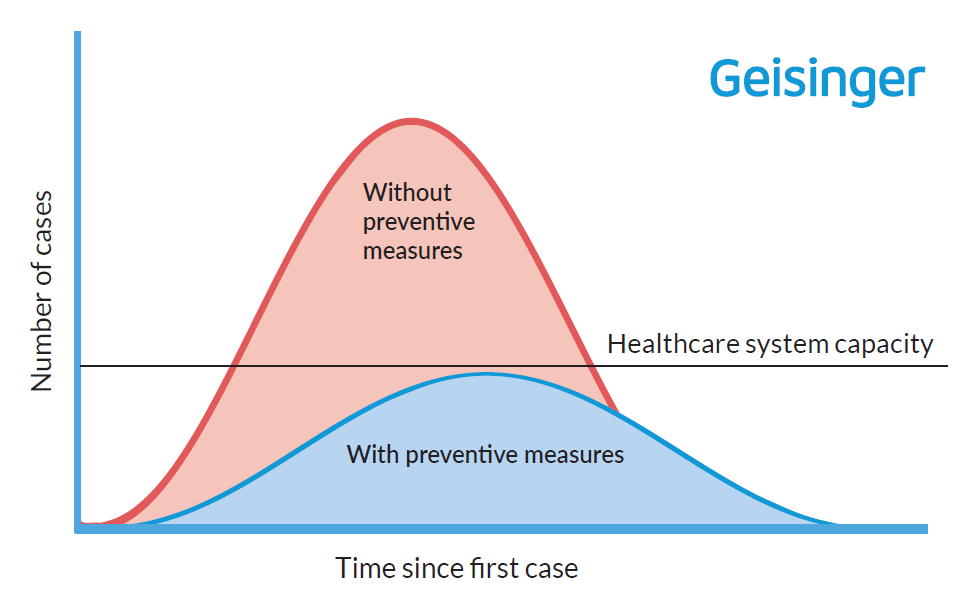 Which preventive measures will slow the spread of COVID-19?
You're likely already taking preventive measures to help slow the spread of COVID-19. Things like washing your hands, covering your nose and mouth when you cough or sneeze and staying home if you're not feeling well all help slow the spread of the new coronavirus (COVID-19).
You've also likely heard the phrase "social distancing," which means to increase the physical space between people to avoid the spread of illness. "While it may be disappointing and worrisome to see all the cancellations and closings, there is a public health reason for these measures," says Dr. Martin.
Examples of social distancing include:
Working at home instead of the office
Closing schools and universities and switching to online classes
Calling or virtually chatting with a friend or loved one instead of visiting in person
Cancelling sporting events or concerts and festivals
Cancelling or postponing large gatherings and meetings
Avoiding crowds and unnecessary travel
What to do if you think you have COVID-19
If you think you're experiencing symptoms of coronavirus (COVID-19), which include those similar to a cold or flu with fever, dry cough and shortness of breath, it's critical that you call your primary care physician first.
From the phone, they can evaluate your symptoms, understand your travel history (and those you've had contact with) and recommend what you should do next.
While you may start to feel worried and want to get tested for COVID-19 right away, it's important to call your doctor before heading to the closest ER or urgent care clinic (unless your symptoms worsen, and you have no other options for care).
"If you're experiencing mild symptoms, calling your doctor or a hotline first will help protect others from potentially being exposed or infected," says Dr. Martin.
We're all in this together
While the current preventive measures may seem overwhelming and drastic, following these guidelines can go a long way in protecting yourself and others around you, including our healthcare workers. Doing your part to "flatten the curve" can help give our hospitals and healthcare providers a better chance at successfully handling COVID-19 infections.
For the most up-to-date information on COVID-19, visit the CDC and Pennsylvania Department of Health (DOH) websites.
Next steps:
Visit our coronavirus resource center
Read our coronavirus FAQs
See our updated hospital visitation policy