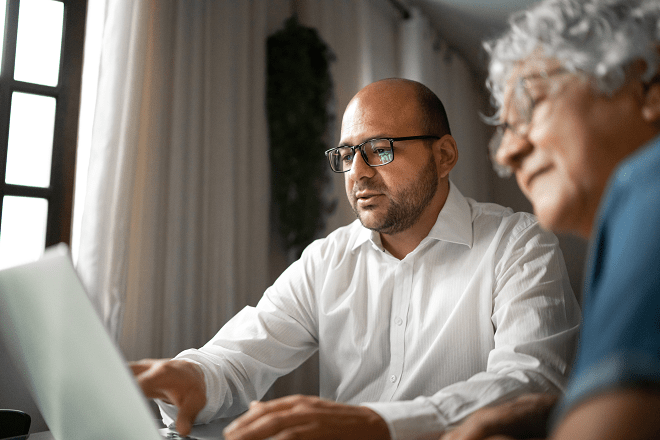 Insurance brokers: Learn about selling Medicare Advantage plans
Find Medicare Advantage plans for your clients
Health plans for those shopping for Medicare Advantage
Want to sell Medicare Advantage? Geisinger Gold is the perfect addition to your portfolio. We offer a variety of plans to fit your clients' needs and budgets with benefits that include low out-of-pocket costs, zero-dollar deductibles, low-cost drug copays and more.
With over 29,000 doctors throughout Pennsylvania, plus over 100 hospitals and nearly 3,000 pharmacies in network — and no referral requirement — your clients' will have access to doctors and specialists close to home.
Geisinger Gold plan options
Our Geisinger Gold plans have several plan types available including:
Health Maintenance Organization (HMO) plans (with or without Rx benefits)
Preferred Provider Organization (PPO) plans (with or without Rx benefits)
Medicare Part D prescription coverage
Dual Special Needs Plans (DSNP)
And more
Plus, our specially designed Geisinger Gold Health+ plan gives your clients even more to choose from.
Geisinger Gold plan benefits
The best part about Geisinger Gold Medicare Advantage plans? They come with a host of benefits* to keep your clients' employees healthy and thriving, including:
Rx programs

For those with income and resource limits, Extra Help from Medicare helps pay the costs of prescription drug coverage.
Our convenient Rx delivery service, Geisinger Mail-Order Pharmacy, offers a 90-day refill prescription program that sends medications directly to homes to cut costs and time.

Dental services

Most of our plans include coverage for routine dental services.
Routine dental services include examinations with cleanings and X-rays, simple fillings and extractions, root canals and dentures.

Health and wellness programs

Wellness programs available online, in person and by phone deliver personalized services to cover your client's needs.

ProvenHealth Navigator®

A primary care physician-led care team coordinating Geisinger Gold members' care.

Geisinger 65 Forward

Geisinger Gold members can join Geisinger 65 Forward, a new kind of healthcare focused primary care and wellness for people 65+.
Geisinger 65 Forward members get same-day appointments, longer doctor's visits, social and educational activities, a personal wellness plan and so much more.

Insulin coverage

Covered insulin will have a consistent copay in the initial coverage limit and through the coverage gap.
Covered insulins include Lantus, Levemir, Novolin/Novolog, Toujeo, Tresiba and Xultophy.
*Dependent on plan selection.
Geisinger Health Plan service area 
Medicare health plans are available in the following counties:
Adams
Berks
Blair
Bradford
Bucks
Cambria
Cameron
Carbon
Centre
Chester
Clearfield
Clinton
Columbia
Cumberland
Dauphin
Franklin
Fulton
Huntingdon
Jefferson
Juniata
Lackawanna
Lancaster
Lebanon
Lehigh
Luzerne
Lycoming
Mifflin
Monroe
Montour
Northampton
Northumberland
Perry
Pike
Potter
Schuylkill
Snyder
Somerset
Sullivan
Susquehanna
Tioga
Union
Wayne
Wyoming
York